10 Best Home Improvement Ideas for Your Next Project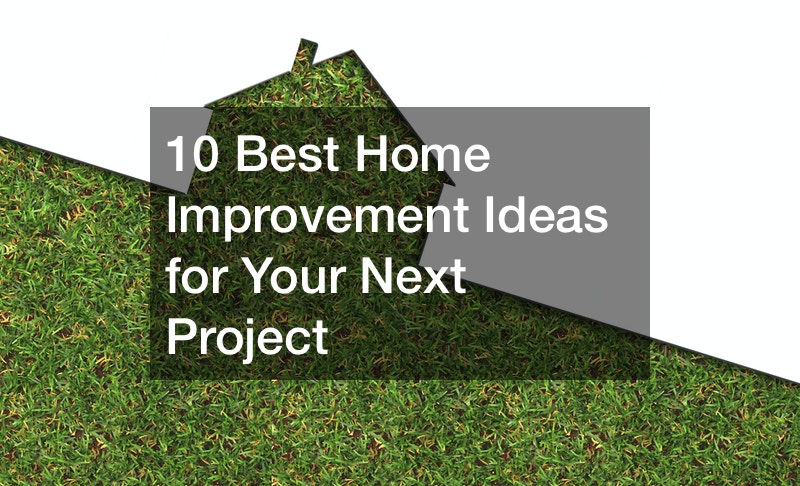 Home improvement does not have to be the daunting task that many people make it out to be. Home upgrade projects come in all shapes and sizes. Sometimes you need a few simple fixes, while other times, a complete overhaul is necessary. Whether you want to boost the look of your kitchen or improve your attic's insulation, there are many relatively simple possibilities for home improvement. No matter what project you envisage, these are some of the best home improvement ideas to add value to your home.
Deck Out Your Patio
There are different things you can do with a deck. You don't have to spend a ton of money to ensure your deck is extra fancy. You can use it to add extra space when you have a big event, such as a wedding or graduation party. You can use the deck for grilling out and barbecuing with friends and family. Pound stakes will help you create an easy and unique look for your deck. You can also use colorful tablecloths and decorations to make your deck pop.
Staining a deck is one of the best home improvement ideas that can significantly improve its look while protecting it from sun and water damage. The most common stain color is redwood because it matches the naturally aged look of treated wood. Also, staining your deck will make it last longer, but you must choose the right kind of stain that won't peel off over time.
Replace Old Ceiling Fans
Ceiling fans are a great way to add comfort and style to your home. It is noticeable when the ceiling fans in the house aren't functioning correctly. Depending on the age of your ceiling fans, they can be energy hogs. One of the easiest ways to save money and help the environment is by replacing old ceiling fans with new energy-efficient models. It is among the best home improvement ideas.
Before starting the project, look at your old fan and ensure the blades are not damaged, and the light is working correctly. Ceiling fans generally have pull chains attached to them, so you can use those to see if they turn on perfectly or not.
Since ceiling fans are old and come with many parts, you may want to stay with the original model. You can also opt for a simple replacement or choose something that looks similar. You may want to try out different shades of white before making a final decision.
Consider a Home Addition
Homeowners sometimes wish their home was more extensive than it is, especially if they have trouble accommodating all the people there. Building an addition to your house is one of the best home improvement ideas to get more living space without moving. There are many considerations when you're planning an expansion.
First, consider the type of addition you wish to build. Your choices may include a single-story building that is attached to your house. It might be an area for a spare bedroom, a new bathroom, extra storage space, or more kitchen space. It can even be a multi-use space that you can use as a guest room while hosting a company and then convert back to a home office when you need to get work done.
If you are looking into an addition to your home, consider planning for the entire project. This way, you can take advantage of any tax incentives and extra financing options available to you through your lender. You also need to get a quote from more than one remodeling contractor. These estimates may vary, and it is essential to understand what the market will bear for your addition.
Store Unnecessary Items
One of the best home improvement ideas and keys to being an organized person is identifying and purging any unnecessary items from your home. It might be time to get digital copies if you have a sprawling collection of DVDs or videos. You can also consider selling or trading in movies that are no longer in your library. They'll make great gifts for anyone who loves classic films.
If you have a lot of extra pots and pans or kitchen gadgets, let someone else enjoy them. Offer them to your friends or family members, and you might be surprised at the unique items you can acquire in this manner. You could also consider selling or trading some of your extras online.
There are so many books you never read. Whether in a personal library or sitting by the bedside, it's easy to forget about specific titles and put them aside. You might even want to reread those titles to jog your memory. Try to complete unfinished reading goals, and use those books for future book clubs or your next road trip.
If you have many toys lying around, it might be time to get rid of them. Even if they were your favorites growing up, they have no place in your adult home. You can offer them at a garage sale, sell them online, or give them away to family members who might appreciate these childhood keepsakes. You can also opt for storage rental if you still have many unnecessary items.
Upgrade Your Bathroom
Remodeling your bathroom is among the best home improvement ideas worth the investment when you do it right. Most homeowners are more concerned with aesthetics than anything else regarding bathroom upgrades. If they want to do something different and exciting, they will opt for a luxury spa-style bathroom, or a bathtub tucked away in a corner.
Home improvement ideas come in all shapes and sizes, and choosing one depends on what you're trying to achieve with your renovation project.
Home renovations are essential, but they have to be planned right with the help of a septic company. For instance, it would be a good idea to get some architectural plans before deciding on your bathroom's overall look. If you want to move furnishings around or replace them altogether, make sure that the layout of everything works within the context of your home.
Creating a mood board or a scrapbook for your bathroom remodel is essential. It serves multiple purposes and is a convenient way to organize your ideas. It also serves as inspiration for you and your plumbing contractor when it comes time to sit down and create the actual design of the space.
Redo Your Driveway
Upgrading your driveway is one of the best home improvement ideas. The older concrete gets, the worse off it will become. Even if it doesn't look bad, there's a chance it'll be cracking, spalling, or otherwise deteriorating. It can lead to an unpleasant driving experience, especially if the concrete is uneven. You can opt for a concrete overlay instead of a total replacement. This way, you'll be able to fix the problems while keeping costs down and still making the surface smooth and flat.
If your driveway has standing water or water that flows when it rains, it may have drainage problems. If this is the case, it can create a poor driving experience and make your driveway more prone to damage. The most effective way to fix it is to put it in a drain system where the water flows through a gutter or rain pipeline.
You can also install guardrails to help prevent injuries in the event of an accident while you're driving on your driveway. Sometimes, these are made from solid toothpick wire to prevent the driver from tripping over them. Others have a wire mesh that's sturdy yet flexible, allowing for easy installation. Either way, you'll be able to keep your family safe and prevent damage to property and vehicles. Working with a concrete contractor when redoing your driveway for the best results is vital.
Replace Your AC
The air conditioning machine is one of the most expensive and energy-consuming appliances you can have in your house. Replacing your AC unit will significantly save you money and improve your health and comfort. Here's how to choose a suitable AC unit for your home.
When considering the best home improvement ideas, your best bet is to purchase a brand new unit. Look at the different available brands, compare labels and prices, and choose based on your budget and the house's current condition. Consider an in-unit model installed under the kitchen counter or in the attic if you have space constraints. Be sure it has an air filtration function, as having clean air can significantly benefit your health.
If you already have a unit installed, estimating how much the new unit will cost can be challenging. Use an online calculator to obtain estimated costs. You can also call your local HVAC service dealer and ask for the lowest price for your model. If you have an in-unit model, then it doesn't matter if you only upgrade the size of your AC unit; the price paid for the installation fee is then fully deductible as a home improvement expense.
Hire a Maid Service
If you seek the best home improvement ideas and an easy way to boost the value of your home, hiring a maid service may be one of the best options. Hire a reputable, local cleaning company to help get everything off your to-do list without hassle.
Hiring a maid service is an intelligent way to get the job done faster. Hiring a cleaning service is an option to consider to give your home the spark it needs. You can get the best maids in the business at affordable prices, so you wouldn't be wasting your time on average maids who are not good enough.
To make this easy, hire the best companies that offer quality services in your local area. You can deal with one room at a time, so you don't feel overwhelmed. By tackling only one room at a time, you can concentrate your efforts on that specific project instead of worrying about the entire house.
You can hire a local cleaning service that specializes in residential cleaning services. By hiring professional cleaners, you benefit from their knowledge, expertise, and tools, such as the chimney cleaner. In addition to their cleaning skills, they'll ensure you're satisfied with their work.
Deep Clean Your Kitchen
A thorough kitchen cleaning is among the best home improvement ideas to eliminate all those grimy microbes.
Deep cleaning in the kitchen isn't nearly as hard as you might think. You need to take care of a few simple things before you embark on your kitchen deep clean. Start by clearing off all your counters and cabinets' tops. Then, throw away everything currently stored in those cabinets, including your food and whatever else might have gone stale. You can then start scrubbing the nooks and crannies to remove all the dirt and grime.
Deep cleaning your kitchen might be more time-consuming as it involves tile cleaning. But with a deep clean on your side, you'll have the most beautiful kitchen on the block.
Deep cleaning your kitchen will give you more time to work on other things in your home. You can use that extra time to cook breakfast, make a healthy lunch one night, or work on your garden. It will help you pace yourself and focus on your goals rather than spending all your time in the kitchen.
Get Rid of Pests
Pests can be a significant issue for homeowners and small businesses. Pests damage the property by eating away at your wooden floorboards, damaging your walls and ceilings, or spreading germs that may cause serious health risks.
Getting rid of pests is one of the best home improvement ideas to add value to your property. Pests dwell in the trash, outdoor food sources, and anything wet and dark like basements or crawl spaces. Therefore, removing all these places from the home or business is crucial. To eliminate pests, make your home unwelcome to them by eliminating food sources and hiding places.
You can use traps to capture pests alive and release them in another area away from your home or business. It can be a helpful way to capture large numbers of pests in one go, especially if you have mice problems since they breed so quickly.
Pest control also involves sealing all holes and cracks with aluminum caulking to prevent pests from entering your home. Use plenty of caulking for the best results, especially around windows and doors, where insects tend to get stuck in the aluminum loops and cannot escape.
In conclusion, implementing the best home improvement ideas require skill and expertise. You can do them out of necessity, and they can provide the impetus to bring your home back up to speed with today's futuristic amenities.
There are many different home improvement ideas that you can carry out for your house. The main idea is to incorporate them into your project to make it a success.