How to Modernize an Old House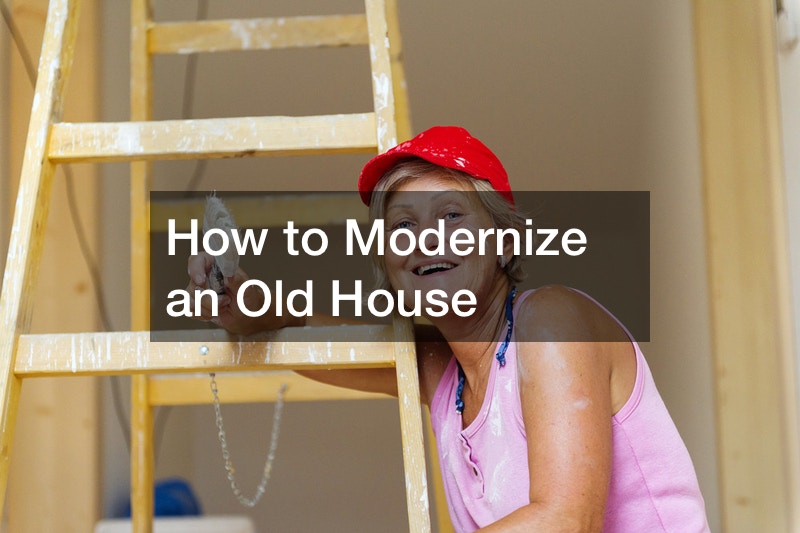 Is your ancient house out of date and in dire need of a facelift? It's not unusual for homeowners to become dissatisfied with the exact characteristics of their property that they adored when they originally paid top dollar for it. Because of regular developments in modern building construction and design, many of these elements have become archaic over time. Perhaps parts of your once eye-catching house designs have lost their luster, or your home's functionality has deteriorated due to lifestyle changes. In these situations, a home remodeling project that modernizes your home is necessary to make it more livable and retain its worth.
If you fantasize about modernizing and restoring your old home to its former glory, your fantasies can become a reality through targeted and well-planned renovations that update critical parts of your old home while retaining some of the original design elements that made you fall in love with it in the first place. If you don't want a sterile, cookie-cutter remodel and are seeking how to modernize an old house, this post will show you how to update an ancient house. With these recommendations for modernizing key areas of your house, you'll be able to combine the best of old and new.
Bring Your Roof Back to Life
If you're seeking how to modernize an old house, replacing and renovating your roof is a proven method to bring your ancient house up to date. By replacing worn-out roofing, you can transform and improve the appeal of your home and give it a new look. Lighter-colored roofs are a cost-effective, energy-efficient, and stylish option that has become incredibly common in modern homes. Roofs with light colors are beneficial for two reasons: First, they improve the energy efficiency of your roof, which reduces your cooling expenditures by decreasing your home's natural temperature. Second, they brighten your home's exterior without changing its color much. They have the same effect on the home as a fresh coat of paint!
Alternatively, algae-resistant shingles are an option. Your present roof may not be as long-lasting, since the shingles are not algae-resistant. You can avoid the unattractive growth of algae on your roof and keep it looking its best for the longest period by choosing algae-resistant shingles.
Another attractive choice for refurbishing an ancient house is clay tile roofing. When put in the correct sort of home, it alters the look of a home and can last up to 100 years. However, its weight must be taken into consideration. This sort of roofing requires a highly robust roof system, so consult with professional roofers to see whether your property can withstand clay tiles. Finally, your ancient house may not require roof replacement. You can determine whether your old home's roof needs repairs by consulting with residential roofing services. If your house has a flat roof–a flat roof repair might be what your old home needs.
Retrofit Your Old Home's HVAC Unit
Maybe you're an owner of an old home and you're searching for tips on how to modernize an old house. An effective way to do this is to update your existing HVAC unit. Although old homes have a certain elegance and beauty that most modern buildings lack, they frequently lack an energy-efficient heating and cooling system. In fact, if your home is about 50 years old, you're likely spending at least 25% more on energy bills every year than a new home of comparable size, which represents a lot of money down the drain. An inspection by an HVAC installer typically identifies such flaws in old homes.
Perhaps you've been using inefficient window or in-wall air conditioning units to cool your old house. In that scenario, you'll need an upgrade because window and in-wall AC units are not only noisy, but they're also irritating, and the compressor also constantly turns on and off. That said, if you own an older house, the good news is that modern central air systems don't need you to do substantial interior renovations or cut into your gorgeous ornamental ceilings, wood flooring, or wainscoting.
Modern advancements in HVAC technology have resulted in ductless solutions that are ideal for older and historical properties. Mini-split HVAC systems are a fantastic alternative. Individual rooms have wall-mounted cooling units linked to a compressor and fan located outside the home. They may be placed in hidden spots that don't detract from the design and atmosphere of your room – and they don't necessitate major renovations. On the other hand, high-velocity HVAC systems employ ultra-thin ducts (tubes) and tiny vents just a few inches wide to convey air into a room. Because the ducts are so thin, they may be snaked through walls without requiring extensive modification.
Lastly, an AC repair service company's AC inspection of your old home might reveal that you only need to update your existing heating system. An existing heating system may be retrofitted for this upgrade. If you already have central heating, you may be able to run your air conditioning system through the same ductwork, but be prepared to repair or enclose your present system, especially if it's older.
Spruce Up Your Flooring
If you own an old house and you're seeking guidance on how to modernize an old house, you need to include flooring updates in your renovation plans. Since flooring has such a significant impact on the entire appearance and feel of a home, it's critical that you focus your modernization efforts on it. With a wide range of flooring materials available, updating the look of an old home's flooring has never been easier.
Vinyl flooring is a common choice nowadays. Two types of vinyl floor exist: luxury and traditional vinyl flooring. Vinyl flooring has a gentle underfoot feel; it is waterproof and may be put over existing floor tiles. For homeowners who want a more natural aesthetic, various colors, patterns, and designs that mimic the appearance of wood or genuine stone are also available. Nevertheless, because they are damaged by UV radiation, it is critical that you install them exclusively in locations that do not receive a lot of sunshine.
Laminated wooden flooring is an excellent option for owners of old homes who want a more natural wooden look for their floors. This flooring is light in weight, comes in many colors, and is easy to maintain. It's a terrific way to bring warmth into your old home's interior.
Roll-out rugs and carpets are another fantastic way to liven up your old home's flooring. They're ideal for strategic furniture arrangement, and you can mix and match various color schemes to create unique patterns. Owners of old houses concerned about keeping a healthy environment should also consider roll-out carpets. There's a wide selection of antimicrobial carpets on the market today that prevent the growth of fungus, bacteria, and dust mites in the carpet fibers. Touching up the flooring is essential since it improves a home's aesthetics.
Kitchen Renovations
The kitchen is the heart of the home, since it is where all of your delicious and nutritious meals are made. As a result, homeowners looking for ways to restore an old property should include their kitchen in their plans. Updating the cabinets is a terrific way to modernize the kitchen. If you believe your old home's cabinets have lost their utility, you should replace them. While cabinet replacements are costly, they are well worth the expenditure because cabinets are an important aspect of the kitchen that should not be overlooked. Repainting the cabinets is another option for homeowners looking to save on costs. Ensure that you go for painting colors that fit right in with your kitchen's aesthetic. It's not compulsory to have your renovated cabinet match other design components in your kitchen exactly; it simply has to partner nicely with them.
Renovation plans for the kitchen should also include splurging on a quality faucet. Since the faucet is the most used component of the kitchen, you should aim for quality and convenience—that is, a premium brand with a single handle. Check the faucet and handle clearance if your sink is positioned just in front of the window to ensure it fits.
In an older home, upgrading the countertops should be part of the kitchen renovation plan. Granite was popular in the past, but modern kitchen counters now have a brighter aspect thanks to new white or light, neutral countertops made of quartzite or porcelain. If your old home's countertops are composed of difficult-to-clean tiles and grout, it's critical that you update them. Countertops are a key investment that has a huge impact on the aesthetic of your kitchen, regardless of which new material you choose.
Additionally, do not ignore the lighting in your kitchen in your renovation plans. Recessed ceiling lights, which give ambient light to the kitchen's open floor area, under-cabinet lighting, which provides illumination for the counters, and ornamental pendants or ceiling fixtures, which brighten work zones like the sinks, are all lighting options for a kitchen remodel.
Mold Removal
If you've lived in your old home for a long period, chances are there are parts in your home that have mold growth. Homeowners seeking how to modernize an old house must eliminate mold in their homes. Mold is a serious annoyance: it flourishes in wet, warm, or humid environments, blackens shower grout lines, discolors drywalls, appears as black spots on the siding, darkens decks, and grows on rotting damp wood everywhere. Worse, it may be harmful to your health. Mold produces microscopic spores that induce allergic reactions, runny noses, sneezing, and annoying and even harmful scents.
Contacting a mold removal contracting agency should be part of any home modernization project. They will do a mold inspection on your property to pinpoint the root of your mold problem. Mold contracting service professionals also employ advanced equipment and their experience in mold mitigation. While they will not eliminate mold because it is a natural occurrence, they will assist you in creating circumstances that prevent mold growth indoors by maintaining a humidity level of 30 to 50 percent and controlling predisposing water sources. Furthermore, they assist you with the cleanup and restoration process with as little disruption as possible.
When it comes to renovating your old home, you must be prudent with your money. Vinyl siding is one of the greatest options for changing the appearance of your home, improving its energy efficiency, and raising its value. They are waterproof, insect-proof, fade-resistant, and almost indestructible under normal conditions. They can also be made to look like almost any type of siding. Premium vinyl siding efficiently raises your home's value, giving you peace of mind knowing that you made the right selection. It also serves as a vital water barrier and is more weather resistant than wood or cedar siding.
Using a Dumpster Rental for Your Renovation Project
Consider how much construction trash will result from your home remodeling. Paint cans, metal refuse, broken bricks, ceramics and tiles, and other building debris will be present. Even the smallest amount of rubbish created will not fit in a standard dumpster. As a result, you can't just sit back and wait for your regular waste pickup. Fortunately, you can rent a container for your additional rubbish from a residential waste disposal company.
Furthermore, having construction waste piled in one area in your home for an extended period is risky. When you don't have enough containers for the renovation staff to deposit the waste safely, this is frequently the case. Having a dumpster rental take care of your trash allows your remodeling crew to plan their work without dealing with piles of construction waste, which helps avoid accidents.
In conclusion, homeowners seeking how to modernize an old house should follow the tips outlined above to avoid making costly mistakes during their home renovation projects. Added research, consultations with expert professionals, and recommendations from knowledgeable friends and family should also be incorporated while drawing up plans for the house remodeling project.