Decorating Ideas for 7 Rooms in Your Home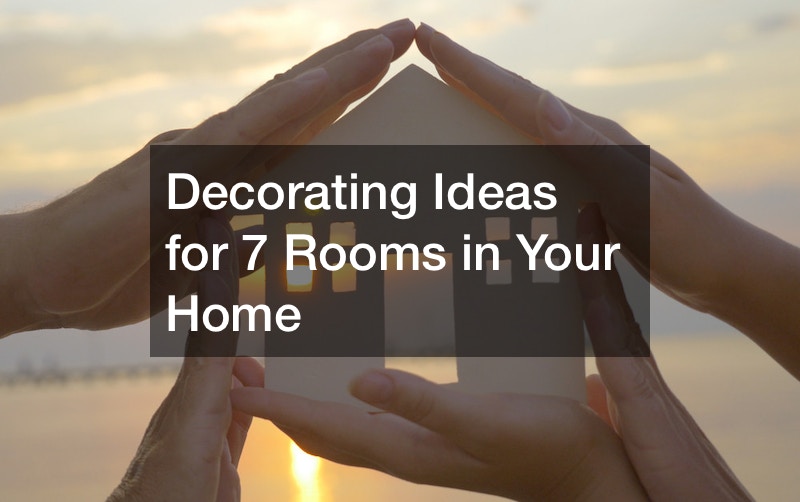 Is your entire house decorated in a single style, but now you want to give each room a unique design that reflects its function and aesthetic? When selecting materials, accents, and accessories, it's essential to consider the user's preferences and usage for each room. Despite the importance of reflecting your taste and hobbies in your home decor, it is equally important to consider the specific purpose of each room. In this article, we'll look at home decor ideas for all rooms in your home. Let's dive right in!
1. Kitchen
You can showcase your home decor style by remodeling your kitchen. According to Angi, the typical American homeowner spends $26,823 on a kitchen remodel, while actual costs might vary from $14,612 to $41,352. Remodeling a kitchen can be costly, so you need to consider your project's needs carefully. If a full renovation is not feasible or economical, consider budget-friendly kitchen makeovers such as deep cleaning, painting, installing light fixtures, replacing the kitchen wall cabinet, adding new accessories, and changing the sink and faucet, among other options.
Paint is the most affordable and simple option to update kitchen cabinets. Painting kitchen cabinets (and walls) in a single shade will produce a stunning finish. You can invest in matching bakeware and cookware to elevate your kitchen look. Also, stick to a monochromatic or two-tone color scheme to develop a coherent design.
Start by selecting backsplash tiles in your preferred shade. Next, use modest ornamental elements or essential kitchen items in a coordinating hue or a neutral tone. You should also install hanging lights, a fantastic finishing touch to bring your kitchen together.
Don't stop there. Place a pair or three pendant lights over your kitchen island to illuminate the middle of this shared area. Adding countertop home decor may also turn your cooking area into a warm and unique retreat, regardless of the size of your kitchen or your particular taste.
With the assistance of a kitchen remodeler, a comprehensive kitchen makeover may revitalize this culinary center. The secret is to blend functionality and beauty, whether your kitchen is large with lots of counter space or small and snug. Working with a reputable kitchen remodeling company can assist you in creating a design that harmoniously combines practicality and style.
2. Bathroom
Add a touch of home decor to your bathroom to bring it back to life. According to Bankrate, a bathroom remodel can range from $6,622 to $16,744. But the cost of a bathroom remodel doesn't have to be this high. Budget-friendly renovation ideas can breathe new life into your bathroom with a few easy adjustments. When designing a bathroom, consider tasks and ambient lighting, such as a chandelier or a dimmer's romantic ambient light to enhance long tub soaks.
Shower-tub combos are a space-saving method of getting the best of both worlds, which is why they are common in bathrooms. If you're fortunate enough to have a large space, keep them as independent structures rather than enclosing the tub inside the shower. With the assistance of a skilled bathtub refinisher, a corner shower or tub will allow you to lather and relax, respectively, and appear oh-so-luxurious in the process.
You may also include some decorations and furniture for the bathroom. A small side table or shelving unit can be useful when extra storage is required. Store extra towels, soaps, and other toiletries in it. But refrain from overdoing the bathroom's accessories. It's sufficient to have a few attractive jars for lotions, creams, and cotton balls and a lovely container for toothpaste and toothbrushes.
Frameless shower doors are another way to turn your bathroom into a tranquil haven akin to a spa. A frameless shower door can give any bathroom a classy appearance while establishing a sense of privacy. Upgrade to a luxurious shower system for the utmost comfort.
3. Garage
New garage doors can instantly enhance your home decor and overall appearance. Your garage should be more fashionable than practical, whether you use it to store your equipment and sporting goods, keep your cars in there, or utilize it as an additional living space, home office, or workshop. You are the most crucial element when it comes to garage decor. What appeals to you? What suits your way of life?
If you do your home improvement, having a visible, orderly display of the instruments you use could be a good idea. A brilliant white hue reflects light onto your four-wheeled pride and joy (but watch the grease fingerprints if you do your work). Matching cupboards and other storage solutions are a smart way to go. A new garage door install can also help you enhance your curb appeal.
Garage doors need routine maintenance, much like home appliances. A malfunctioning garage door weighing 600 pounds can endanger your family and car. Therefore, it's critical to watch out for warning indicators that your garage door needs to be repaired or replaced. According to Angi, the average garage remodel cost is around $18,000. A garage door inspection can identify problems before they prevent you from accessing a simple fix.
Find a local garage door company to assist you in selecting a design that enhances your home's interior design while enhancing the architecture of your building. Save yourself the trouble and money by not letting a broken garage door ruin your day or require costly repairs. Be proactive when it comes to your garage maintenance.
4. Living Room
Your living room should be where you can unwind, relax, and spend time with loved ones, friends, or yourself. It takes talent to create a room that looks amazing and fits you. First, fill up on multipurpose, fashionable, and functional items. Coffee tables with upholstery can double as ottomans. The area can be used as a guest room thanks to a couch sleeper.
The window blinds you select are the most crucial finishing touches to add a modern touch to your home decor. Imagine being able to open and close blinds in your living room while on vacation. You don't even need to imagine it because remote control blinds can provide you precisely that: the ability to regulate these bad boys using various control methods, such as a wall switch, remote, or smartphone app. What could be more modern than blinds that take care of all the hard work for you?
Additionally, while matching upholstery can provide maturity and structure, mixing and matching upholstered pieces will add individuality to the design and make a living room feel cozier and friendlier. Speaking of upholstery, living room furniture must be both cozy and long-lasting. The best option is to choose mid-tone materials because lighter or darker hues more easily display wear and dirt. However, remember that you may design a stunning room without using bright colors; a living room can benefit greatly from even a small amount of color to create a cozy and welcoming ambiance.
Fixr.com reports that the average cost to redesign a living room is between $2,500 and $15,000. However, you can make your living area a mindful retreat and elevate your home decor regardless of your available space, budget, or style. It is easy to create a well-designed living room area that balances carefully chosen elegance and worn-in charm, regardless of your design experience level. You can create a warm and inviting haven in your living room with a little planning, some insider knowledge from interior designers, and help from a blinds designer.
5. Bedrooms
Since you spend a third of your time in the bedroom, you should consider how to make it a relaxing space. Picking out the bed and other bedroom furniture should come first. Even though there may be other places where you may cut costs, investing in a good mattress and pillows is always a wise choice.
Color selection is also quite important in a bedroom. If you get up later in the day, go for a darker color; if you are an early riser, go for a lighter shade. In addition to enabling you to read and get dressed in the bedroom, the lighting plays a crucial role in creating the ideal atmosphere. According to Angi, you should budget between $500 and $2,500 for the materials needed to decorate your bedroom.
Take into consideration your furniture's visual weight. Not only may mobility around your bedroom be an excellent indicator of its clutter level, but appearance matters, too. All furniture has an aesthetic weight. For example, a simple bed frame without a headboard will appear visually lighter than a large one with a headboard. When selecting bedroom furniture, pay attention to each piece's aesthetic elements.
Remember to adhere to your style. Don't let decorating ideas derail your creative process when brainstorming bedroom ideas if it means that your finished space won't feel like your own. Make sure you ask yourself what appeals to you along the road because your bedroom should feel cozy and customized to your needs. Incorporate your favorite items – such as upholstered headboards or greenery – into your design concepts.
6. Dining room
Since the dining room table is the space's focal point, any decor effort must carefully consider its selection and arrangement. Selecting the appropriate furniture for a tiny dining area might be very crucial. The chairs and the chandelier are crucial because they contribute to your overall style and dining room ambiance.
An area rug will define your dining space; choose a material that is easy to clean, such as wool or hair-on-hide, and then make sure you get the right size. Rugs for dining rooms should be large enough to accommodate the table and chairs and at least two feet of additional carpet around them. Of course, we're talking about your dining room daily. There aren't just a few occasions each year when you need to make room for guests at the table. Consider a round table if the space is a pass-through to avoid awkward encounters with sharp corners in your dining room.
A dimmer switch should control any dining room's leading light. When cleaning and setting up the eating area, you can use the dimmer to turn the light to total wattage. Then, when you want to have a more private evening, turn the light back down. Remember to include some dining wall decor, sculptures, and mirrors in the design.
Let your architectural characteristics and home decor lead the way. Always choose flooring and upholstery that complements the architectural style of your house. It will create a big impression and give your room personality! This does not imply that you cannot have a modern dining room if you reside in a country home built in 1820! Combining different interior design eras and styles is acceptable if the opposing style is kept visibly contained in the space.
7. Home office
Sources estimate that building a home office will cost about $15,000. Your demands may vary if you plan to hold client meetings in your home office and use the area for work-related purposes. However, there are particular guidelines for organizing and furnishing a home office, even if you'll merely use it for family business. You should service your desk, shelves, and storage, not vice versa. Before purchasing furniture, consider your work process and search for elegant and practical pieces.
Purchase a fantastic chair. You spend hours perched in your office chair, so investing in a lovely, supportive, ergonomic seat is well worth the money. Paint the walls a color you adore as well. A color that makes your work motor rev up is what you need. That's a vibrant, upbeat color, like lime green or orange, or a calming shade, like botanical green or sea foam blue.
Remember to master your technology. While there isn't much you can do to make the phone, printer, or computer look nicer, you can conceal ugly cords. To begin with, make sure your equipment is easily accessible and close to outlets in case you need to unplug it. Cover desk cords with fabric cord covers and insert the cords into a desk grommet, a metal or plastic cap that fits through a hole in the desk and conceals the cords underneath.
Lastly, let there be light. Ensure enough light in your workspace reduces headaches and eye strain. Place a tiny lamp on the desk for task lighting, and adjust the computer display so that a window or overhead illumination does not obstruct it. Ultimately, you want your home office to be a comfortable workplace. And they are worth it if a charming picture or a few works of art will help you get that emotion.
Do you feel more equipped to begin decorating your house now? Your home is a reflection of your personality and style. You can create a living environment that truly feels like home by considering these home decor ideas for different rooms in your house.