11 Things in and Around Your Home That Could Use Some Sprucing Up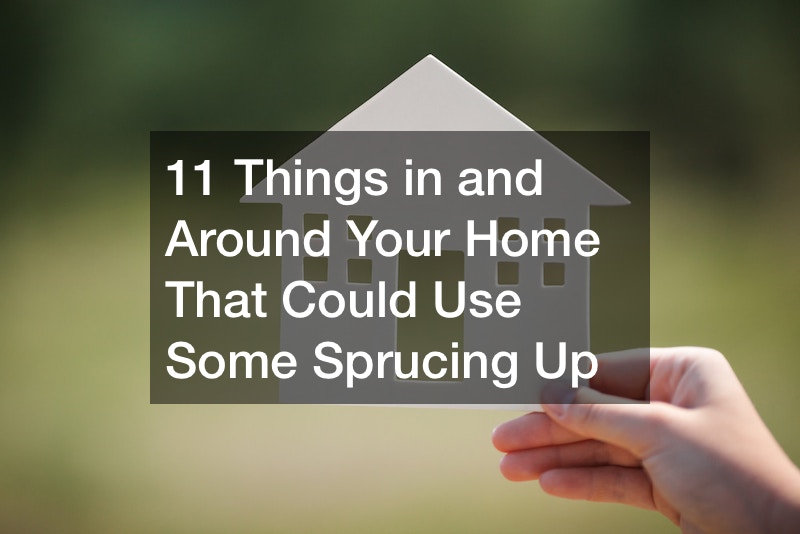 Take a look around your home; does it inspire satisfaction and mood elevation? If it doesn't, it's time to refresh the spaces. Whether it's your living room or bedroom, there are various creative and cost-effective methods to add a new touch to your home. You can go DIY with most of these projects to make your home look more on-trend and exquisite. Read on to learn how to use home decor to revive your home.
1. The Kitchen
The kitchen is the heart of your home. It's more than just a room with sizzling aromas and warm conversations. It's a space where you create memories with your family and friends. Since most activities occur in this place, it's prone to wear out. That's why the kitchen needs maintenance from time to time.
According to Forbes, a kitchen remodel costs an average of $12,000 to $60,500. However, you don't have to break the bank to spruce up your kitchen; you can simply change some things to make it look new. Strategically adding more lights can take your kitchen look from 0-100 in a jiffy. For example, you can run LED wires beneath your floating cabinets.
Also, you can reface your kitchen cabinets by painting or replacing the hardware. However, if they are in bad structural shape, you'll need a kitchen contractor to replace them. Start by painting your cabinets to give them a fresh look. Gray is a good color for the kitchen because it conceals food splashes and fingerprints. Upgrading cabinet hardware, such as handles and knobs, can give it a visual uplift.
Moreover, you can replace the old flooring with vinyl tiles. Vinyl floors are resistant to humidity, steam, and moisture. You can explore various vinyl styles and colors to find one that matches your home, such as patterned and all-white. You can simply go DIY to make these kitchen improvements, but local kitchen contractors can help transform your space into a cozy, uniting space with trendy features.
2. The Bathroom
Elevate your home decor by giving your bathroom a makeover. Adding a fresh coat of paint to your bathroom can upgrade it from a 2 to a 10. One innovative technique to consider is interior electrostatic painting. This technique uses charged particles to create an even and seamless coat of paint. Also, use mildew and mold-proof primers and paint for the walls and roof.
Replacing old hardware can ignite a spark in your bathroom. For example, replacing towel bars, cabinet knobs, and sink faucets can make a big impact by bringing a touch of modernity. Repair any cracks, leaks, or damaged frames to keep your bathroom shining. Don't overlook bathroom window repair.
You can spruce your bathroom by adding plants to elevate the space with texture and color. The pothos is an example of a plant that does well in the bathroom. This plant is easy to maintain and has air-purifying qualities. Install wall-mounted shelves or decorative containers like sea shells and river stones to hold small potted plants.
Did you know lighting fully transforms your bathroom? For instance, adding a chandelier creates a warm, restful atmosphere, with the reflection and refraction adding more light. Besides making a statement, proper lighting reduces fall and injury risk. Other bathroom lighting options are mirror lights, pendants, and recessed lighting. You can also add mirrors to add an illusion of expansive space.
3. The Living Room
You can also transform your living room into a captivating oasis by incorporating simple enhancements. You can add mirrors in your living room to reflect light and open up the room. For instance, mounting a stylish mirror opposite your window can magnify natural light and create a sense of spaciousness.
To rejuvenate your living room, consider adding plants to your home decor. Here is an interesting fact from a recent groundbreaking study. According to the University of Technology Sydney, houseplants remove cancer-causing compounds from indoor air.
Adding a mixture of potted plants like succulents, ferns, or a statement fiddle leaf fig can transform your space's aesthetic appeal. Place them strategically on windowsills, shelves, or corners to create a harmonious blend of greenery. For an artistic touch, consider hanging trailing plants in decorative planters.
Infuse your living room with nature-inspired textures and colors. For example, introducing kiln firewood displays both a functional and decorative feature. Stacking it neatly in a corner can evoke a rustic and cozy atmosphere, even if you don't have an active fireplace. You can also opt for cushions with earthy tones like soft browns and muted greens to evoke a tranquil setting.
Another way to enhance the ambiance is by rearranging your home furniture. When arranging your furniture, consider functionality and aesthetics. Identify the room's focal point, the fireplace, or a piece of art. Arrange your seating to face the focal point, thus creating a cozy or inviting spot.
4. The Yard
Your yard could also use sprucing up to boost your home's curb appeal. Yard enhancement and landscaping are synonymous with planting trees and grass. But you can go a step further with simple regular landscaping maintenance to revamp your yard. Tasks to do during maintenance include mowing the grass, pruning the shrubs, and weeding your garden. Don't forget to remove old furniture and garden tools from your yard.
Also, focus on hardscaping. Elevate your yard's functionality by introducing outdoor seating and entertainment zones. Invest in weather-resistant furniture that suits your style. For example, a cozy corner with a bench swing or adding a hammock under the shade of a tree. Moreover, create zones for different activities, such as a grill station for barbecue parties. Creating distinct areas makes your yard an extension of your home decor.
Don't stop there. Enhance the charm of your yard with creative lighting and personal touches. String lights or lanterns can make your yard inviting even after the sun sets. Reflect your personality in your landscape by adding decorative elements like wind chimes and garden sculptures.
DIY projects like painted plant pots can infuse a sense of uniqueness. Do you like connecting with nature? How about adding a bird feeder to attract wildlife?
5. The Chimney
Have you ever considered how a little home decor can transform your chimney? Increase your chimney's visual allure by introducing decorative accents and greenery. You can adorn it with potted plants, trailing vines, or seasonal flowers. Ferns can perform very well in the fireplace because they only need indirect light and some water to survive.
Transform the look of your chimney by refreshing its masonry. Adding a new coat of paint can work wonders in revitalizing the exterior. Choose a color that harmonizes with your home's overall palette. Alternatively, consider exposing the natural brick or stone for a rustic charm. The type of finish depends on your taste, whether it's a modern sleekness or classic warmth.
Over time, soot and debris accumulate, dulling the appearance of the exterior. Revitalize your chimney with thorough cleaning and chimney repairs. You can hire chimney cleaning tools (brushes, filtered vacuum system, and inspection camera) from local hardware or hire chimney cleaners to do the job for you.
Enjoy a revitalized chimney by creating a seating and gathering space nearby. Add comfortable chairs or a cozy bench to encourage relaxation. This creates an inviting place to unwind, read or converse.
6. The Garage
The garage is where you store everything from tools, vehicles, and forgotten treasures. Besides storage, you can use your garage as a studio, workshop, or gym. It's often forgotten when people make upgrades in their homes. This under-utilized space has the potential to be so much more.
Begin by thoroughly cleaning and organizing the space. Get rid of clutter by disposing of items that you no longer need. You can boost the storage space by installing shelves, cabinets, and hooks to keep items neatly arranged.
Have you considered the potential of your garage as more than just a utilitarian space? Transform its appearance with aesthetic upgrades that harmonize with the home decor. You can apply a fresh coat of paint to breathe new life into its exterior. Don't forget to replace old garage doors too. A reputable garage door company will install a modern garage door that provides enhanced security and energy efficiency and boosts curb appeal and functionality.
Maximize your garage's potential by exploring innovative ways to use the space. You can convert a portion of the garage into a hobby workshop, fitness corner, or gardening station. You can achieve this by setting up wall-mounted organization systems to free up floor space.
7. The Bedroom
The bedroom is more than just a place to rest; it's a sanctuary for relaxation and rejuvenation. Do you ever look around it and feel as if something is missing? Luckily you can snap the mood of your bedroom by making a few alterations.
Elevate your bedroom's allure by selecting comfortable and stylish bedding. Opt for quality sheets, duvets, and throw pillows that resonate with your taste. For example, if you lean toward traditional aesthetics, look for bedding featuring vintage-inspired fabrics, like brocade or damask.
Lighting can also infuse personality into your bedroom. Well-chosen lighting contributes to the aesthetics and functionality of the room. If you're embracing a traditional style, look for a chandelier with intricate metalwork to evoke a sense of elegance. For a modern twist, pendant lights with adjustable light settings.
Don't forget to add personal touches to your bedroom's transformation. Infuse your personality with artwork, photographs, or sentimental items. Hang artwork that resonates with you above the bed or on an empty wall, adding a personal touch to your home decor. For warmth and character, you can add decorative elements like scented candles and indoor plants.
8. The Windows
Are you considering breathing new life into your home decor through a unique element? Consider sprucing up your windows. Assess the condition of your windows and inspect any damages or worn-out frames. Give your windows a thorough cleaning to remove dirt to prepare them for a decorative makeover.
Elevate your windows by selecting stylish curtains, blinds, or shades that align with your aesthetic. To create a modern look, go for grey curtains. The right window treatments enhance the room's visual appeal and enhance privacy and regulate light.
You can also add a touch of elegance to your window furniture by incorporating decorative hardware. Opt for decorative curtain rods, finials, and tiebacks that match the theme of your room. Metallic finishes like brush gold or matte black can bring a modern touch to your space.
Consider window boxes or shelves that hold potted plants or decorative items, adding dimension and vibrancy. Adorn these shelves with succulents, trailing ivy, or flowers to create a lively focal point. These green accents connect your indoor space to the natural world.
9. The Bookshelf
Do you have a bookshelf in your home? You can also spruce it up to enhance your home decor. Start by clearing clutter and assessing the items you'd like to showcase. Organize your books according to genre and color for a visually pleasing arrangement.
Display personal mementos on your bookshelf. Also, integrate items like travel souvenirs, family heirlooms, or cherished keepsakes. For example, a framed photo from a memorable vacation or a childhood toy. Incorporating personal touches makes it a unique reflection of your life and experiences.
Use decorative bookends and accents to elevate your bookshelf. Choose bookends that complement your taste, whether sleek and modern or vintage and ornate. You can also integrate decorative objects such as sculptures and vases to break up the rows of books and add visual interest.
10. The Floors
Does your floor look boring and lack adequate resources to renovate it? Even if you repaint the walls and make other upgrades, neglecting the state of your floor will prevent your home from reaching its full potential. Consider exploring different options to revitalize your flooring.
Elevate your floor's appeal by adding a stylish rug. Choose designs and textures that align with your existing decor scheme. Rugs make your floors warm and cozy.
Want to make a bold statement in your home decor? Consider upgrading your flooring. If you have hardwood floors, a simple refinishing process can renew them. According to the National Association of Realtors, hardwood floor refinishing has the highest ROI, at 147%. You can also paint the wooden floors with white paint to match the aesthetics of your home. Alternatively, if you have carpeted floors, a professional deep cleaning can help restore their color and texture.
Enhance your floor appearance by adding floor-level decor elements. For example, floor-level seats, poufs, and cushions add comfort and style. You can also display decorative baskets and vases that drive attention around the floor.
11. The Fence
Many homeowners overlook the fence. While fences primarily provide security, it's one of the areas that can break or make your curb appeal. It's the first thing visitors and potential buyers come across immediately after they get to your compound. Ideally, sprucing up the fence involves using decorative elements to hide unsightly old wooden and concrete poles. You can hang pots and baskets or plant climbers.
In conclusion, your home is like a canvas awaiting you to adorn it creatively. So, roll up your sleeves and immerse yourself in these projects to turn your living space into a haven of comfort. Your home deserves all the sprucing up, and this article gave you the tools to make it happen.