Easy Home Care Tips for Summer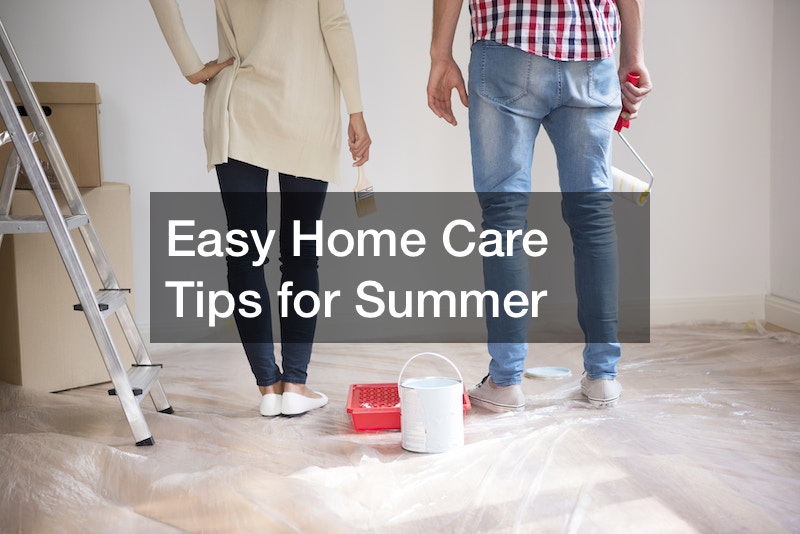 Summer is a great time to unwind by a pool or lake, read under a tree, or nap on a cool porch. For homeowners, the seasonal change in weather should serve as a reminder to complete home maintenance tasks, particularly those that are easier to complete when the weather is nice. As the temperatures rise, there's no better time to begin your summer home maintenance projects. This guide will provide you with simple home care tips to help you enjoy your home, both inside and out, while the weather is nice.
Insure Your Home
Summer presents an excellent season to engage in outdoor activities, travel, and spend quality time with family and friends. However, it is also a time when your home is more vulnerable to damage or loss as a result of weather-related events like hurricanes, thunderstorms, and wildfires. As a result, insuring your home is critical. Insurance is easy home care to protect your investment and provide your family with peace of mind during the summer months.
There are several options for homeowners when it comes to home insurance. A standard policy, which covers damage caused by events such as fire, theft, and natural disasters, is the most common type of home insurance. It is important to note, however, that not all policies are created equal, and it is critical to select the appropriate type of coverage for your specific needs.
If you live in a flood-prone area, for example, you may need to purchase a separate flood insurance policy to protect your home and belongings from flood damage. Similarly, if you own valuable items like jewelry or artwork, you may need to add additional coverage to your policy to ensure that they are fully protected. Working with a reputable home insurance company to help you choose the right coverage options for your specific needs and budget is essential.
Updating Your Bedroom Decor
It's summer, time to refresh your bedroom decor to create a welcoming and comfortable space that reflects the season. The use of lighter colors and fabrics is one of the most noticeable effects of summer on bedroom decor. Swapping out heavy comforters and blankets for lightweight, breathable options like cotton or linen can help create a cool and comfortable sleeping environment.
Summer-themed decors, such as beachy accents, tropical prints, or nautical elements, can also help to create a relaxed, vacation-like atmosphere in your bedroom. Using bright colors such as yellow, orange, or coral to create a sunny, summery vibe. An easy effort such as finding cheap mattresses for sale, changing out bedding, adding new throw pillows, hanging new curtains, or adding plants or fresh flowers can all have a big impact on your summer bedroom decor.
Updating your bedroom decor for summer can be both aesthetically pleasing and functional. A well-designed bedroom can improve your quality of sleep, reduce stress, and improve your overall well-being. It's a cheap and easy home care update, and with a little imagination and planning, you can update your summer bedroom decor without breaking the bank.
Remove Outdated Doors
Summer is all about enjoying the outdoors, and updating your doors can help create a seamless transition between indoor and outdoor spaces. Outdated doors detract from the overall appearance and feel of your home and may fail to function properly, making it difficult to enjoy the summer weather. There are numerous reasons why an easy home care update like replacing old doors before summer is a good idea.
First, old doors can pose a security risk. Older doors may be less sturdy and secure than newer options, making it easier for intruders to enter your home. Outdated doors may also not be properly insulated, resulting in higher energy bills and a less comfortable home during the summer. Replacing your doors with modern, secure options can provide you with peace of mind while also saving you bills during the summer months.
You can find the perfect door to complement your home's existing style and décor by selecting from a variety of styles and materials. Popular home door styles include panel doors, glass doors, barn doors, and French doors. Consider hiring professional door installers to ensure that your new doors are properly installed and functioning properly.
Improve Your Lawn
Keeping a lush, healthy lawn is an important aspect of maintaining a comfortable home in summer. Fortunately, the process doesn't have to be difficult or time-consuming to improve your lawn. You can keep your lawn looking beautiful and healthy all summer long by following a few easy home care tips.
To begin, ensure that your lawn is properly watered. Because the summer months can be dry, it's critical to water your lawn regularly to keep it healthy. If you don't already have an automatic irrigation system, consider purchasing a sprinkler or hose to make watering more convenient and efficient.
Also, fertilize your lawn regularly. Fertilizing your lawn can help it grow strong and healthy. Your local home improvement store will have plenty of easy-to-use fertilizers. To avoid over-fertilizing and damaging your lawn, carefully follow the instructions.
Finally, consider artificial grass installations. If you're looking for a low-maintenance option, artificial grass could be the answer. It not only requires less upkeep than traditional grass, but it can also save you money on water bills and reduce your carbon footprint. With a wide range of styles and options, artificial grass can provide you with a beautiful, lush lawn without the hassle.
Upgrade your Kitchen
The kitchen is the centerpiece of every home. Summer creates an ideal time to update your kitchen for a more fresh and modern appearance. A kitchen renovation is an easy home care project that will improve the efficiency and beauty of your space. It involves replacing old appliances or adding new countertop materials. To begin, consider upgrading your appliances to energy-efficient models, which will not only save you money on your energy bills but will also help to reduce your carbon footprint. Replace old cabinets with new ones that have more storage space and are better organized.
Another way to add a pop to your kitchen is with a simple countertop upgrade. This is a great and easy home care task to get started with. To create a long-lasting and stylish look, go for quartz, marble, or granite kitchen countertop. Consider installing a custom countertop made of recycled glass or concrete for a more unique and custom look. You can enjoy a fresh and modern space that is ideal for summer entertainment and everyday use with these kitchen upgrades.
Tackle Renovations
Summer is the perfect time to tackle those easy home care projects you've been putting off. This is a perfect time to think about replacing your roof. Your roof is an important part of your home that can affect its overall appearance, energy efficiency, and value. Replace old or damaged shingles, add insulation to improve energy efficiency, or even install solar panels to help you save money on your utility bills.
Updating your garage doors will also improve your summer experience significantly. Your garage doors are a major source of curb appeal and can have an impact on the overall appearance of your home. To give your home a new look, consider replacing old, outdated garage doors with new, modern ones.
A bathroom renovation can also increase the value of your home and provide you with a spa-like retreat to unwind in after a long day. Consider replacing outdated fixtures, installing a new vanity, or upgrading your shower or bathtub. These simple changes can have a significant impact on the overall appearance and feel of your bathroom. If you are unsure about tackling these projects on your own, consider hiring custom home remodeling services to help you achieve the desired look.
Make Your Backyard an Oasis
A backyard oasis is a tranquil outdoor living space that allows you to escape the hustle and bustle of everyday life. It's a place where you can relax, unwind, and enjoy the beauty of nature. A backyard oasis can be anything from a simple seating area to a fully equipped outdoor kitchen or pool. A space where you can entertain friends and family, or simply spend some time alone, particularly during summer. With the right design and furnishings, your backyard oasis can be a place that you'll look forward to spending time in all summer long.
Creating a backyard oasis is an easy home care project that doesn't have to be complicated or expensive. Start by decluttering and cleaning the space. Consider adding some greenery with potted plants or a small garden. Install some outdoor lighting to create ambiance and extend the use of the space into the evening. Invest in comfortable outdoor furniture and consider adding a fire pit or water feature for a focal point. With these easy steps, you can create a relaxing and inviting backyard oasis to enjoy all summer long. For perfect installations, you may need professional help from landscape design companies.
Improve Your Outdoor Hosting Space
A functional and inviting outdoor hosting space is essential for summer entertaining. You can create a functional and inviting outdoor hosting space to enjoy all summer long with easy home care tips. Start by thoroughly cleaning your outdoor entertaining space. This easy home care step can make a significant difference in creating a welcoming environment. Next, consider adding some features to the space to make it more appealing, such as a custom outdoor kitchen. This not only provides a convenient cooking area, but it can also function as a focal point for socializing.
If a custom outdoor kitchen is out of your budget range, there are plenty of other inexpensive ways to improve your hosting space. For a cozy gathering spot, consider adding some outdoor furniture, such as a dining set or comfortable seating. Outdoor lighting is also essential for creating ambiance and extending the space's use into the evening. Don't forget to add some greenery to the area with potted plants or a small garden to add some natural beauty. Finally, provide some entertainment options for your guests, such as outdoor games or a music sound system.
Ensure You Stay Cool During the Heat
Talk of summer and you'll be talking about that time for outdoor activities. But is it? Well, the summer heat can be oppressive at times. That is why it is critical to stay cool during the summer heat. One way to accomplish this is to ensure that your air conditioning system is in good working order. Contact your dealer for inspection and air conditioning repairs before the summer to ensure that it is in good working order. You can also improve the quality of air in your home by replacing your air filters.
Another way to stay cool in the summer is to strategically use fans. Ceiling fans and box fans can be used to create a cool breeze in your home without the need for an air conditioner. Consider purchasing a portable air conditioning unit that can be moved from one room to another.
Also, make sure your home is properly insulated. This will keep the heat out during the day and make it easier to keep your home cool. To block out the sun's rays, you can also install window films or shades. You can also provide shade for your home by planting trees or installing awnings. By following these simple summer home care tips, you can stay cool and comfortable during the hot summer months.
Add a Splash of Color
Adding a splash of color to your house is an easy home care task to refresh your space for the summer season. Start by choosing a color scheme that reflects the warm and vibrant feeling of summer. Consider using bright colors such as coral, turquoise, or yellow to create a cheerful and welcoming atmosphere in your home. You can also incorporate bold patterns such as stripes, florals, or geometric shapes to add visual interest to your decor.
Another way to add a pop of color to your home is by incorporating colorful accessories such as throw pillows, curtains, or rugs. These items are inexpensive and simple to replace as the seasons change. You can also decorate your walls with colorful artwork or display a collection of bright and colorful objects on your shelves or coffee table.
Painting an accent wall or a piece of furniture in a bold and vibrant color is another way to incorporate color into your home. This is a simple project that has a significant impact on the overall appearance of your space. With an interior house painter, the task can be completed on a weekend.
There are many easy and affordable ways to prepare your home for summer as we've seen in this guide. From updating your bedroom decor to improving your outdoor hosting space, there are a variety of home renovations that can be done to make your home more comfortable and enjoyable during the summer months. Transform your home into a summer oasis that you and your family will love using the above easy home care projects.