Home Remodeling Tips to Avoid Overspending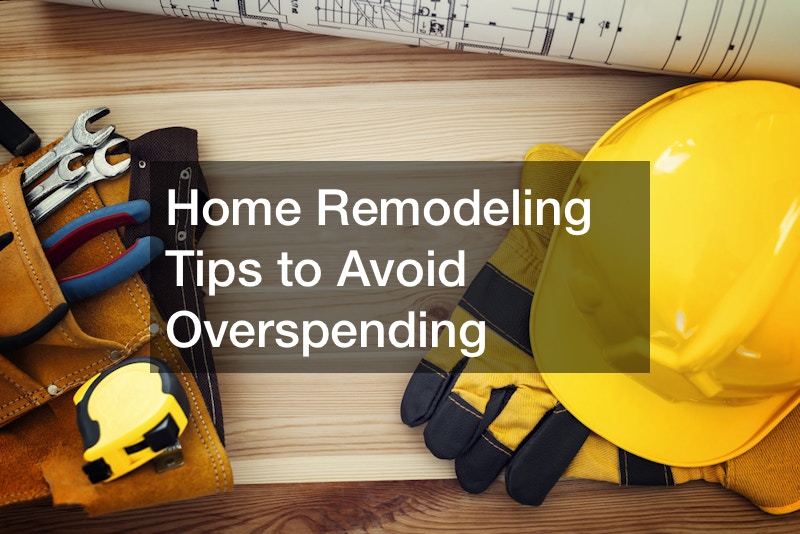 When you are starting the process of home remodeling, there is a lot on your mind. From budget lines to paint chips, you want the process to be seamless and as stress-free as possible. It can be easy to get overwhelmed with every detail, and the first impulse is to dive into the mess and tackle whatever comes your way. This is going to be a very easy way to overspend on your home renovation. Instead, take a big breath and use these home remodeling tips to avoid overspending when you are in the middle of your home remodel.
Get Serious About Your Budget
It can not be disputed that your budget is the thing you are most serious about when you are remodeling your home. However, it can be very easy for this element in any renovation to spiral out of control. When you are getting ready for a home remodel, create a budget that you know you can stick to. Then, stick to it.
So many people will go out of control here. When an interior painting contractor offers a color change or addition, for example, the entire budget can get thrown. It doesn't have to. You can still have all that you want in your home remodeling plan without throwing off the budget. Creating a budget that you can work with is the first on every list of home remodeling tips to avoid overspending.
There are a number of different types of budgets to make. You can make one that is calculated by the square footage of the space that you are renovating. This method helps you to determine material costs but can fluctuate if the size of your remodel grows with a project. A full-cost budget with say, $20,000 cap is another common way to make a budget.
Pay Cash Instead of With Financing For Remodeling
A home renovation can run overboard with the spending when you are financing the project, particularly if the limit on your financing has some wiggle room. Even when you think you have some wiggle room here, the budget can be blown in one decision. Big projects like kitchen and bath remodeling can not often be paid for in cash, but many other projects can be.
When you pay cash for your remodelers, you get the expenses out of the way and off your mind as soon as you pay for the remodeling. Homeowners also tend to be more prudent with their cash when they are paying cash for items upfront. Using cash instead of financing is always going to be one of the best home remodeling tips to avoid overspending. When you can, use cash and you won't see that budget whittle quickly.
Make a Plan and Stick to It
Making a plan and sticking to it is a lot different than making a budget and sticking to it. In so many cases, homeowners will go into the room they are changing, start stripping paint, or taking down walls, and they will get overwhelmed when they don't know what to do next. Among the wisest home remodeling tips to avoid overspending is the tip to have a plan. Know exactly what you are going to do and when you are going to do it.
You don't need to be launching a luxury remodeling project in order to have an effective renovation plan. Make your list of things you need to get done, and then plan them out in step one, step two, fashion. Then you will always know what is ahead with your renovation project. Adding budgets to every step of your plan will help you to stay on task and avoid overspending.
Time Your Renovation With Sales and Deals
When you are planning a renovation, if you can hold it off, plan your remodel when there are going to be sales and big events that can help you to save money. Kitchen remodeling is a good example of this. New appliances or fixtures are an ideal way to improve a kitchen renovation. However, there are times of the year when new appliances are going to be more affordable or on sale.
You can avoid overspending on your home remodel project by waiting out some big purchases. You may want to wait until Black Friday, for example, to order something big, such as an appliance or a power tool. The end of the summer is another ideal time to stock up on end-of-season items or tools or appliances. Conduct some research before you start your renovation to see when the sales of the items that you need are typically going to occur. Many stores and brands will even tell you when those can be expected, and aren't shy to tell you to wait a few weeks or months before you purchase that big item. If a new stove or fridge you've been coveting for years can wait until that sale, it will be worth the wait.
Get By With a Little Help From Your Friends
This is one of the most common home remodeling tips to avoid overspending, but a lot of people overlook it because they don't want to ask their friends for help. You may not want to bother your electrician buddy for a little bit of advice or your landscaping friend for some backyard ideas, but it's a good idea to ask. Even if you can benefit from the advice of an expert that has done some of the things that you are going to be doing with your remodel, that can help you to save a lot of money.
A lot of experts can give you ideas on what should be next with your home remodel, or how you should begin that can go a long way. A landscaping expert, for example, can look at your backyard and give you tips on hardscaping and structures before you even start digging. Have a friend over for dinner and bend their ear on some thoughts, and you may even get a good contractor out of it for your home remodel. Offer your expert services in return. Talk to your friends and family about people that they work with that they like as well if you do not have any friends in trade work, and you should get some help with some good referrals.
When you are choosing people to work on your home, take your time in making your selections. A referral from a friend or family member can be a good thing, but at the same time, they may not always be the best person for you. Every home remodel is different. Don't rush when you are bringing contractors onto a project. Have interviews and listen to the people you are talking to. Get as many quotes as you can. And, if you have a strange quote that seems a little off, don't be shy about asking an expert if this number makes sense. You don't want a cheap contractor, or the most expensive, but you do want to save money where you can.
Do Not Rush Contractor Research
Whether you are looking for a demolition service or a painting company, take your time doing your contractor research. A common way to handle the research for contractors is to ask them to bid on projects. Before you bring the demolition service onto your street, every single project should have at least three estimates on it from different contractors. It is another of the most common home remodeling tips to avoid overspending.
This tip is not just about watching your money, but about ensuring your home remodeling jobs happen as seamlessly as possible. Look for the ways in which each contractor handles the request. Take notes on things like whether or not they are on time for appointments if they appear organized, and if their plan makes sense to you. Think of how it would feel like to work with this contractor for weeks or even months. If it seems like they are going overboard on excuses and promises, then this is not a contractor for you. Take your time when you are hiring people to work on your home.
Combine Materials and Use Recycled Materials When You Can
This is one of the lesser used home remodeling tips to avoid overspending, but it really works. You can get creative with the materials that you use when you are renovating by mixing materials or finding unused products at your local renovation stores. If you have friends that have unused materials at home, they may be interested in selling them to you at cost or for a much lower price than you would pay at the store.
There are homeowners all over the world with a garage full of bricks they didn't use, half-used paint cans, or vinyl or hardwood slabs that are leftover. You may not be able to use these for a full project, but you can use them to paint bedroom furniture, touch up a section of a powder room with just the right amount of flooring, or even create a shelving unit with unused wood that can't be treated a new way.
You can also mix materials throughout the house without buying reused or unused products from the renovation stores. You may want hardwood in one room, but not have the budget to do the whole first floor. Use hardwood in a smaller room, and then bring laminate or vinyl flooring that matches closely in the rest of the house. Tiling is also much more affordable than hardwood and may be an option you choose for larger sections of your home. Be creative and have an open mind when you are remodeling, and you will find that you save a lot of money on materials when you exhaust every option with sourcing them.
Do-It-Yourself Will Always Save You Money
You don't need a construction management company to handle an interior paint job or smaller things in your home remodeling plan. After you have made your budget, go through every phase of the project and step of the renovation and determine what you can do on your own. Then, plan each do-it-yourself (DIY) element on your own and compare costs with outsourcing that work. You will see immediately how much money you can save there.
Be reasonable with yourself and know your own limits when you are taking on DIY projects in a home renovation. Be realistic and honest with what you can and can not do. If you have never constructed a shelving unit, this is not the time to get the idea to build it on your own to save $50. You may wind up paying more to undo and then redo the project with someone else. Big projects like outside digging will need excavation contractors and these are costs you can not avoid. Smaller things that you've done before and know you can do are the areas you will save money on.
Plan for Hidden Expenses
When you are planning your budget for your home remodeling projects, plan for hidden expenses. Have a budget and funds set aside for those things that are bound to come up. Then, when they do, they won't seem all that frightening or stressful. Many experts will say that if you put aside 10 to 20 percent of your entire budget for hidden expenses, you will be less worried during your home remodel project.
You may never use that budget, but that cushion will still be there in the end. If you can follow the most common home remodeling tips to avoid overspending, and still have money left at the end of your project, that's an ideal renovation plan. It's not easy, but it can be done with the right planning.
Communicate Often to Avoid Overspending
Every homeowner has seen the renovation shows where the nightmare homeowner becomes a royal pain to deal with. That is someone that is communicating. There is a fine line between communicating enough and communicating too much. You don't have to become a pain to deal with in order to get the job done and on your budget. Don't hire a contractor and leave them alone for weeks, or you will be left wondering what happened to your budget. Combine that with the tips on this list, and you will have a home renovation project that you can be pleased with.