How to Design a Laundry Room Layout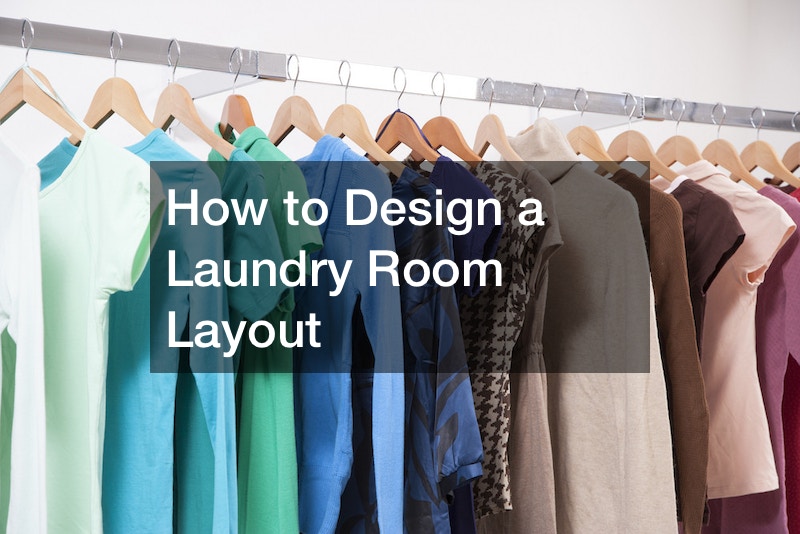 Your laundry room can be a beautiful space to fold laundry, keep your clothes clean, and enjoy the process. The key to successful laundry room design is to plan out the layout carefully and make sure you include all of the important elements. If you're wondering how to design a laundry room layout, below are some tips that can help.
Waterproof Your Floor
If you're wondering how to design a laundry room layout, you'll need to consider what area of your home has the best plumbing setup. You'll also want to make sure the floors are waterproof so that any spills or leaks won't cause damage. Vinyl flooring is a popular choice for laundry rooms, as it's water-resistant and easy to install.
In addition, carpet cleaners can help keep the area around your laundry machines clean and free of water. However, the best choice will be vinyl and waterproof flooring. A great idea is to use vinyl tiles with a waterproof sealant for ease of installation and cleaning.
If you own an apartment building and want to provide the tenants with convenient laundry facilities, consider a tile style that is specifically designed for commercial use and issued with an anti-slip coating.
Concrete and hardwood floors are also great choices for laundry rooms. Concrete is highly durable and easy to clean, while hardwood can add a nice look and feel. If you choose to use hardwood, make sure you seal it properly, or use an epoxy to make sure it's waterproof.
Install the Drainage System
When designing a laundry room, you'll also need to think about how your laundry machines will drain their water. If you're planning on installing some laundry machines into your apartment complex, commercial plumbing contractors will help you design the best water drainage system possible. Some great places to install the drainage systems are under the machines, in a designated corner of the room, or even in the wall.
You'll also need to consider where the water drains to so you can prevent water damage. Most laundry machines have specific types of drainage systems associated with them, so make sure you get the right type for your specific machines.
Choose Your Washer and Dryer
Choosing the right washer and dryer is essential when designing a laundry room layout. Consider how much space you have available to fit these appliances in, as well as their size. Commercial laundry machines are usually larger and more powerful than consumer models, so make sure to measure the space correctly before buying.
Also, think about how much laundry you do in a typical week. If you have a large family or do a lot of laundry, then you'll need bigger machines that can handle larger loads. On the other hand, if you don't do much laundry throughout the week, a smaller machine is a great way to save space, money, and still get your laundry done. If you're wondering how to design a laundry room layout, measure the space needed to install your washer and dryer.
To do so, measure the width and length of the machines, as well as their total height. This will help you determine how much space you need for your laundry room and what type of machines are best for the layout.
Install Shelving
Shelving is an important part of organization. Just like your local laundromat has shelves for storing detergents and fabric softeners, you too can install shelves in your laundry room. This is a great way to store cleaning supplies for those wondering how to design a laundry room layout. To begin, measure the space available and plan out how many shelves you'll need. You may also want to install a few hanging storage racks or cabinets for additional storage needs.
Install your shelves using a stud finder and a level, then add baskets or bins to store items such as fabric softener, detergent, and dryer sheets. Ensure your shelves are strong enough to hold heavy items like bottles of detergent, and high enough to keep them off the floor.
If you' don't want to add floating or exposed shelves, you can also add cabinets to your laundry room. This will give you much-needed storage space while keeping everything neat and organized.
Add a Folding Table
Adding a folding table is a great way to finish off the design of your laundry room layout. It can provide additional workspace for folding clothes, or even as an extra countertop when pre-treating or sorting clothes. To help choose the right table for your needs, measure the space available and decide if you need a larger or smaller surface.
The folding table should be able to withstand moisture from the washing machines, so make sure that it is waterproof or sealed with an anti-slip coating. This will help ensure that its longevity and protect your clothes as well.
Install Countertop Space
Countertop space is essential for folding and sorting clothes. If you have the space, you may want to consider hiring an architectural firm to create a beautiful and uniquely designed countertop space. Countertops can be made of stone, wood, quartz, or any other material you can think of.
If you're on a budget, however, laminate countertops are a great cost-effective alternative. A professional masonry worker can also help you decide which type of materials to use, for those wondering how to design a laundry room layout. For instance, if you choose quartz countertops, they will require a special type of sealant to protect them against staining and damage.
If you're planning on creating an outdoor laundry room, you may want to look into weatherproof countertops. This way, your countertops will withstand exposure to the elements and still remain in great condition.
No matter how you choose to design your laundry room, always make sure to consider the amount of space available and what type of materials you want to use for your countertops.
Make Space For HVAC Systems
There's no denying that laundry rooms can get hot fast. For those wondering how to design a laundry room layout, consider where your heating and cooling system will be. If you have central cooling in your home, you might not have to worry about this part of the room design. If not, you'll need to install a small HVAC unit in the room.
To do this, measure the space for the unit and then hire a professional to install it. The exact size of the HVAC system will depend on various factors, such as how big the room is and how much hot air needs to be vented out.
Fortunately, there are many air conditioners that can fit easily into a window. For instance, heat pumps and mini-splits are great options for small laundry rooms.
Once you've decided which type of HVAC system to install, make sure to leave enough space so the unit can be serviced and maintained.
Make Space For Plumbing Lines
In addition to water conditioning systems, your laundry room will also need to make space for plumbing lines such as washer and dryer hookups. When measuring for these, start by taking into account the size of the washer and dryer you plan to install.
You'll also need to measure the space between the back wall of your laundry room and the center of each appliance. This will help you determine how much clearance is needed for the water lines and power supply.
Finally, keep in mind that gas-powered washers require an additional vent line for safety reasons, so make sure to include this in your measurements as well. Because plumbing and gas lines are extremely tricky to install, it's always best to hire a professional.
With the right planning and measurements, you'll be able to create a beautiful laundry room design that meets all of your needs. To ensure safety, contact your plumber for advice during the hookup process.
Space For a Drain Pan
If you're wondering how to design a laundry room layout, don't forget about the space you'll need to add a drain pan. This is an important part of preventing water damage, as any potential leaks from the washing machine will be funneled into the pan and away from your walls.
The size of the drain pan should correspond to the size of your washer, so you'll need to measure for that as well. The plumbing for this particular setup will also require a professional's services and may involve some intricate work.
For instance, when installing the drain pan, you'll need to cut a hole in the floor for the drain line. This should be done in a specific way to make sure that no leaks will occur. You'll also need to fill the drain with sealant to help prevent water from seeping out to the surrounding floor.
Although the drain pain fits under the washer, it will still take up room and determine how much space you'll need for your dryer. Measure your drain pan and washer before determining how much space you'll have left over for your dryer.
Consider Whether You're Using Top Load or Front Load
One of the most important factors to consider, for those wondering how to design a laundry room layout is the type of washer and dryer you'll be using. Top-loaders take up more room, as the lid must remain open for the clothes to go in and out. Front-loaders are more efficient when it comes to space, as they only need a few inches on either side for clearance.
If you're choosing between the two, front-loaders will provide better energy efficiency and generally cost less to run than top-loaders. Whichever type of machine you choose, ensure you're making space for taking clothes in and out of the machine. For instance, for a front-load washer, you'll need more clearance around the door to open it. For a top-load washer and dryer, you'll need more clearance above the machine to reach in and out for clothing. Consider how tall you are and how much clearance you'll need to comfortably take clothes in and out of your washer and dryer.
Power Considerations
In addition to size considerations, also look into how much power both machines require before installing them in your laundry room layout. This is especially important if your washer and dryer are electric rather than gas models. Make sure that the circuit breaker can handle the load so that you can avoid any electrical damage.
If you're wondering how to design a laundry room layout, you'll need to speak with a contractor if you plan on using an electric-powered laundry machine. They can help you plan where in your home your laundry machines can go.
For instance, an old-fashioned fuse panel system may require a professional's help in order to install the washer and dryer. Additionally, it's important to check local building codes to make sure you're in compliance with laws concerning electricity and plumbing.
Once you've taken the necessary measurements and power considerations into account, you'll be able to create a beautiful and safe laundry room layout.
Consider Venting Requirements
Smaller laundry rooms may not be able to accommodate a vent or duct for the dryer, but this is an important consideration if you have the space. Ensure that you check local regulations on venting requirements and also take into account any noise pollution you want to avoid with soundproofing materials. This will help create a more comfortable environment in your laundry room and prevent dangerous fumes from escaping.
For instance, many homes now have a closet space where a stacked washer and dryer can fit comfortably. Other homes might also have a dedicated laundry room. Regardless of the type of space you have, ensure that you've taken all of the necessary ventilation measurements before creating a layout for your washer and dryer. If you need help, consider asking an appliance installation service ahead of time. They can help you understand the requirements needed to ensure your laundry room doesn't overheat and can safely let air escape.
By following all of these steps, you'll have your laundry room ready to go in no time! Now you can enjoy a functional workspace without having to worry about water damage or other potential hazards. With careful planning and professional help, designing a laundry room layout is easy and stress-free. Good luck!