How to Decorate a Contemporary Living Room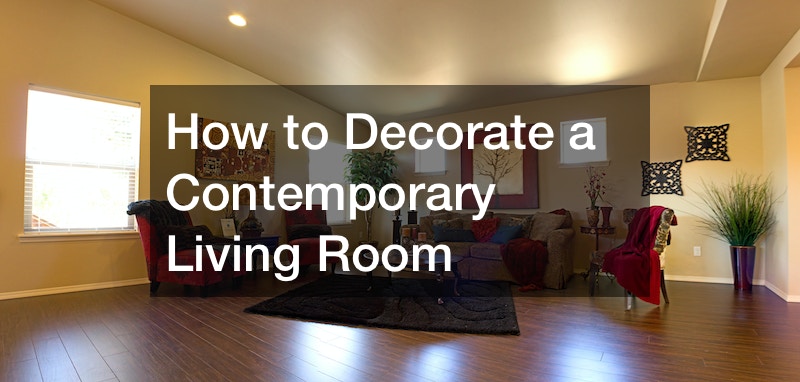 With its calming hues, sleek lines, and smooth surfaces, it's impossible not to love a stunning contemporary living room. Decorating a contemporary living room demands a light-handed approach to ensure your home never feels dated. The good news is that designing a contemporary living room that allows you and your visitors to relax and engage in stimulating discussion is quite simple. Whether it's more minimalist or glam, contemporary accents and furniture help you achieve just that. Choosing the appropriate materials, lighting, colors, lines, and furniture is crucial. Let's start by describing a contemporary style before diving into how to decorate a contemporary living room.
What Is a Contemporary Style?
We've all undoubtedly mistaken modern interior design for contemporary style at some point. Yet, despite their similarities, contemporary home decor is in a category on its own. Due to its light-handed, minimalist approach to decorating, the contemporary décor is timeless and classic. As a result, it'll never feel outdated. The contemporary style is calming and focuses on a concise color palette, attention to bold scales, decorative details, and architectural elements for a warm, luxurious space. This contrasts with modern decor, which can feel cold, constricting, and overly minimal. Achieving a perfectly balanced contemporary-style living room calls for simplicity, clear lines, textural plays, and subtle drama. Now, let's take a look at how to decorate a contemporary living room.
1. Artwork
When thinking about how to decorate a contemporary living room, artworks offer a unique opportunity. The best part about using artwork as decorative pieces is that real artists create them. This gives you more unique and engaging designs to choose from. From simple to complex artworks, there's something out there for everyone. Consider matching your artwork to your décor and general color tone. You can use art pieces to reflect and set the mood for your living room. For a relaxing atmosphere, go for prints that depict waves, sunsets, or the ocean.
You can also use artwork as your living room's focal point. Position them strategically in the room's center to draw visitors' attention away from the TV. If possible, place them at eye level. To avoid detracting attention from your focal point and ensure the surrounding is always tidy and clutter-free. Research shows that the brain misses details when views are chaotic. Art pieces also create the impression of a larger living room by taking attention away from the room's corners or walls. This decorative design approach is also a great conversation starter. If you find prints online that you love, have them printed out by professional printing services, and since you're just doing this for your home, you won't need bulk screen printing.
2. Wall Texture
Adding texture to your walls is one of the best answers to how to decorate a contemporary living room. Textured walls are an excellent way of adding character and interest to your contemporary living room. They add depth, which gives off a luxurious vibe and increases your home's resale value. You can also use textured walls to reduce noise between rooms, conceal architectural flaws and visual flaws such as sheetrock fractures, and provide long-lasting protection to your walls. This saves you the time and effort of having to repaint your walls regularly.
There are various wall texture trends you can explore. These include wall treatments, engraving, hardwood panels, textured paint, and marble tiles. Textured walls are a veritable work of art you can't afford to leave out.
3. Contemporary Furniture
Among the numerous unique and contemporary living room designs, contemporary couch designs are a favorite. Instead of the typical rectangular couches, consider incorporating curved and angled sofa designs. These unique furniture pieces will undoubtedly catch your guest's attention and add an original and fashionable sense to your contemporary living room design. They deliver a futuristic aesthetic that's a hot trend right now. To enhance the modern appeal and add flair to your house, pair such living room furniture with three-dimensional wall patterns, body-shaped candles, geometric vases, and uniquely shaped tables. Contemporary furniture is great when it comes to how to decorate a contemporary living room.
4. Bohemian Patterns
Bohemian design trends are spot-on if you want to know how to decorate a contemporary living room. This is because bohemianism is all about being liberal rather than adhering to rules. Though the boho living room design illustrates a natural and carefree look, it doesn't mean that your space should be cluttered. Simply fill your living room with fabrics in bold colors, or pattern designs for a distinctive look that expresses your personality. You can also add elaborate wallpaper, indoor plants, and beautiful window draperies. This design approach also features a blend of modern and vintage components that'll make your living room appealing and vibrant.
5. Black Accent Pieces
Black accents are some of the hottest design trends right now, which can be attributed to the fact that black is a traditional, powerful, and dramatic shade that's a favorite in modern and contemporary design. To create a stunning contrast, pair black accents with lighter hues such as white, a classic combination. You should also consider pairing it with softer and earthier color palettes. The contrast between black and other colors will give your room a distinct visual appeal that will draw attention to your home's design. If you're working with a bright space, black accent pieces such as light fixtures, wall patterns, and furniture will complement the design perfectly. Along with making a powerful color statement, one can also use black to add texture to a room, which may come from metal, wood, or tiles that stand out and make the room more interesting.
6. Create Zones
To make your living room less monotonous, create distinct zones for family time, work, well-being, and entertainment. A similar approach is used by landscape designers. Consider adding a cool coffee corner by the side of your main sitting area, or a simple reading corner by the side of your sofa. Including such areas in the main living room arrangement undoubtedly gives the impression of more space than there is. Zones separate different areas of your room and increase the adaptability of your living room design while preserving a seamless overall look and feel.
You can use curtains, standalone shelf pieces, or decorative room dividers to separate zones. Compared to doors, these are less conspicuous methods of dividing your living room and adding texture to the overall design. For a small apartment, consider glass doors to separate the bedroom section and sitting area to allow natural light to filter through the seating area and into the bedroom, even when the doors are closed. You get to maximize natural light while still clearly defining each zone. Creating zones may not seem obvious, but it's one of the best ways to induction into how to decorate a contemporary living room.
7. Add Plants
Large, dramatic plants and flowers in simple pots are common in contemporary living room designs. Indoor plants and flowers add a relaxing atmosphere to your living room. They produce a pleasant scent and help in maintaining the air quality. It has been proven that being around flowers and plants can relieve stress and promote mental health. If you don't know much about flowers and plants, do some research beforehand to identify which ones you like, and which ones you'll get.
You need to know how to take care of them, how much light they need, and where exactly to place them. Some plants require less heat and light than others, making them unsuitable for living rooms. After you identify the plant you'd like to go for, put it in a container and add rocks or bark chips over the soil to keep things looking organized and clean. Adding plants is a great way to learn how to decorate a contemporary living room.
8. Color
One of the key components of contemporary living room design is color. Contrary to popular belief, contemporary design isn't all about brilliant white. Try to incorporate a striking contrast in the colors. Monochrome is a favorite because it allows you to switch between extremes. Be bold in your color selections and don't be afraid to move about the color wheel. Contemporary color schemes are bold. They focus on creating intriguing contrasts, making them dynamic.
9. Accent with Metal
In contemporary-style living rooms, metal shouldn't just be used for tables and other major furniture items. Use hammered, polished steel for metallic accents on everything from metal-trimmed trays and photo frames to the frame of a floor-length mirror or the base of large floor lamps. Give your living space a contemporary edge with a glittering gold vase, shiny brass on an armchair's frame, or a cuff around a clock or wall. In terms of decorating a contemporary living room, using metal accents offers several opportunities.
10. Lighting
Similar to how the texture should move from the ceiling to the floor in a room, contemporary living room lighting should do the same. Recessed spotlights are common in contemporary living rooms. They work well when paired with accent lighting. Consider adding a sculptural pendant light to serve as artwork. A contemporary living room is among the few styles where LED lighting strips can be employed without detracting from the aesthetics.
Use them to create a sort-of frame for your ceiling or to emphasize a simple, geometric design by concealing them in soffits and dropped ceilings. Professionals recommend sticking to only two finishes for your lighting. Anglepoise lamps, conical shades, flared shades, as well as floor lamps with large arched stems and big domed shades and abstract ceiling shades can be used in the same setting. For the best results, work with a seasoned electrician.
11. Use Organic Textiles
Natural fabrics like silk, linen, cotton, and wool, are common in contemporary interiors. The fabrics are popular for their neutral colors and textures. You can use a blanket, a rug, or throw pillows to add eye-catching patterns or vibrant colors to your living room design. Even if you incline more toward modern design's minimalist side, employ textiles to provide a variety of textures to your living space.
Fabrics have evolved from pricey, intricately woven brocades to lightweight yards of cotton, linen, and silk. These fabrics are widely available for upholstered furniture and soft furnishings such as pillows and curtains. This is where you can express your creativity. When replacing worn-out and faded upholstery on furniture you already own, use wool or cotton textiles in solid colors that can resist wear and tear. Neutrals are a staple color, but you can choose another hue should you prefer.
Experiment with various patterns and textures for your fabric pillows. You'll be amazed to learn that pillows with geometric or minimalist motifs go well with plain-colored pillows that are piping-lined. Even an accent chair can have a cushion with a striking design on it. Choose locally made textiles like handwoven textiles or textiles manufactured from natural materials.
12. Flooring
A contemporary style living room should have smooth, bare floors made of wood, tile, or vinyl. Choose commercial grades if you must use a carpet for warmth or sound control. Add rugs with plain colors or geometric patterns for texture.
13. Contemporary Style Accessories
While furnishings call for a minimalist approach to a contemporary design, you can get creative with accessories. Besides furniture, the greatest contemporary interior design strategies often rely on the extras you add to a space, such as lighting, décor items, and artwork. To add depth and personality to an otherwise minimalist space, use contemporary living room accessories with subtle details that also serve as interesting discussion starters. If you're looking to experiment, consider getting that sign in your garage and taking it for sign repair so you can use it as a decorative element.
14. Contemporary Window Treatments
If you have large, clear windows, consider keeping contemporary style window coverings simple and retractable to preserve a neat, polished look. That said, window coverings such as Roman shades offer a fantastic opportunity for adding contrasting elements to your living room. Choose sheer white floor-to-ceiling drapes to lend polished drama to a contemporary living room or dining room, or keep the appearance natural with dark wooden blinds.
15. Visible Strong Lines
Contemporary living rooms are characterized by strong lines, whether they're vertical, horizontal, or curved. One can use lines as structural features and geometric shapes as accents in décor. You can also achieve it by color-blocking some of your furniture or walls.
Ready to put your living room design ideas into action? Use this guide to exercise your interior design skills, and choose a few gorgeous pieces of contemporary accents and furniture or artwork printing. From discrete contemporary living rooms to vibrant and bold ones, the only thing limiting you is your imagination.