What Does it Cost to Remodel a Bathroom? Heres a Breakdown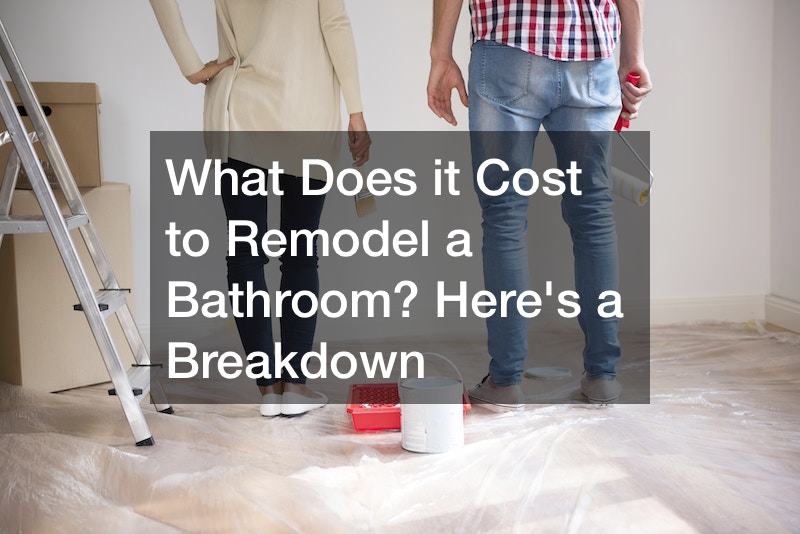 According to the 2022 U.S. Houzz and Home Study, guest and primary bathrooms are the second and third most popular room to renovate behind kitchens. This may be partly because bathroom and kitchen remodels offer the best return on investment (ROI), but also because they are so frequently enjoyed. Bathrooms and tranquility go hand in hand and are well worth the money spent. According to HomeGuide, bathroom remodels have an average ROI of 60% to 68%. The answer to 'what does it cost to remodel a bathroom' will vary depending on the project scope, material cost, bathroom size, labor, and other factors. In this article, we'll break down the costs that go into remodeling a bathroom:
Overall Cost of a Bathroom Remodel
According to a 2019 Joint Center for Housing Studies at Harvard University survey, the average cost for a minor bathroom remodel is $3.567, while that of a major remodel is $23,557. It's getting more expensive to remodel a bathroom due to supply chain issues, inflation, and labor shortages. The 2022 Houzz U.S. Houzz and Home Study found the median spend on bathroom remodels in 2021 to be $9,000, a 13% increase from the $8,000 median spend in 2020, 2019, and 2018.
Those with larger bathrooms exceeding 100 square feet had a median spend of $20,000 in 2021, an 11% increase from the previous year ($18,000). Major remodels involved replacing the countertops, vanity, and toilet at the very least. In contrast, the cost of major remodels on smaller bathrooms (less than 100 square feet) went down by 17% in 2021 to $10,000. According to Angi.com, the average cost of a typical bathroom remodel is $10,788. Home Advisor's national average is $11,198. HomeGuide cites the average bathroom remodel cost to be between $5,500 to $15,000, i.e., between $120 and $275 per square foot.
According to the National Kitchen and Bath Association (NKBA), homeowners should aim to spend between 5% and 10% of their home's value on a bathroom remodel. Therefore, the cost of a bathroom remodel for a $250,000 home would be $12,500 to $25,000. The rules are however different for higher-value homes. If the value of your home is $1.5 million, you shouldn't spend $150,000 on one bathroom since most of it will go to the bathroom remodelers. $75,000 is an adequate amount.
Cost Breakdown per Item
You can expect the fixtures and flooring to take up around 15% of your total remodeling budget, with painting totaling less than 5%. What does it cost to remodel a bathroom will vary depending on the bathroom size, floor plan, number of fixtures, and their quality. Your location can also make your costs differ significantly. Home Advisor says the average cost of a bathroom remodel in Atlanta, GA is $12,148, $16,691 in Birmingham, AL, and $20,179 in San Jose, CA. Cities with high real estate prices will raise your remodel cost by up to 20% more.
While remodeling, consider hiring an interior designer. They can offer valuable advice to help you achieve a high-end and timeless aesthetic for a fraction of the cost. They can also help you achieve striking bold designs that you may be reluctant to try, such as industrial designs using architectural concrete. Hiring one is even more critical if you wish to make your current home your forever home. Seek an aging-in-place specialist who can create a bathroom with universal accessibility features. Such features include curb-less showers, open shelves, walk-in tubs, and full-length shower benches. Such a contractor should be certified by the National Association of Home Builders (NAHB) or have qualifications pertaining to universal design.
Labor Costs
A bathroom remodeling contractor charges an average of $40 to $100 per hour, depending on their specialization. Labor costs account for around 20% of the total remodeling budget. According to HomeGuide, here are some labor costs for 'what does it cost to remodel a bathroom.'
General contractors = $30 to $90 per hour. According to Angi, the average cost of a general contractor is $4,000
Electrical contractor = $40 to $100 per hour
Plumber = $45 to $150 per hour
Painters = $20 to $50 per hour/$1 to $6 per square foot
Drywall installation = $1.50 to $3.50 per square foot
Interior designers = $50 to $200 per hour
Fixtures
Shower – Adding a full shower complete with a tile floor, shower walls, and associated fixtures can be quite expensive at an average cost of $6,576. The price range is typically $3,000 to $10,000, which is very wide and depends on your chosen features and materials.
Flooring – According to HomeGuide, flooring costs range from $800 to $3,500 or between $7 and $20 per square foot. The material you choose and the size of the bathroom will be the main deciding factors in 'what does it cost to remodel a bathroom.' Choose a material that performs well in wet conditions, such as porcelain, ceramic, vinyl, natural stone, engineered wood, or laminate flooring. Of these options, natural stone is the most expensive. Avoid solid wood and carpet flooring in your bathroom, as these handle moisture poorly.
Countertops – Replacing your countertops will cost you between $15 and $60 per square foot, which comes to an average cost of about $450 to $1,500. Ceramic, porcelain tile, Formica, and laminate are among the cheaper options, while quartz, terrazzo, and granite will raise costs. The bathroom is a high-traffic area but doesn't require heavy-duty countertops such as those in the kitchen. Laminate is a popular bathroom material.
Cabinets – Expect to pay between $500 and $3,600 for new cabinets. Resurfacing the ones you already have will cost between $200 and $800.
Toilet – A simple gravity toilet can be had for as low as $80, while a modern high-end toilet such as a wall-hanging toilet costs $500 to $2,000.
Plumbing and electrical materials – if your remodel requires extensive structural changes, you'll likely need to hire electrical and plumbing contractors. The cost to install plumbing pipes for a fixture is between $450 to $1,800. Electrical wiring materials cost about $2 to $4 per square foot.
Vanity – costs between $300 and $3,800 and includes the bathroom counter, sink, faucet, and cabinets. The national average is $1,500.
Paint – Painting costs between $350 to $750, and unlike piping which requires a plumber, you can DIY this part and save some money.
Lighting fixture – $50 – $300
Exhaust fan – $30 – $350
Additional Bathroom Remodel Costs
Other than the costs mentioned above, remodeling activities that gut the existing space will seriously affect what does it cost to remodel a bathroom.
Changing the positioning of fixtures – According to Home Advisor, a conversion from a half bath to a full bath can cost $5,000 or more. You can save a lot by not having a plumber and mason move the location of the toilets, baths, showers, and sinks.
Gutting the interior – demolishing the interior costs around $1000 to $2,300 and includes the dumping, hauling, recycling, permits, and equipment fees. The flooring, cabinets, shower, and tub comprise some of the parts to be demolished. Prices will be higher if walls need to be moved. This is also an opportunity to save money if you know what you are doing. Bringing down a load-bearing wall or cutting electrical lines will create costly remedial costs.
Water damage repair – there may be preexisting problems within the bathroom, and it would be unwise to remodel over such issues. It's best to let residential plumbing repairs take care of any underlying issues before commencing the remodel. An example of a water damage repair cost is slab leak detection which costs $125 to $400 and requires dedicated equipment. Fixing a slab leak will cost anywhere between $500 to $4,000.
Leaking or burst pipes – diagnosing the leak costs $100, while fixing it costs an average of $150 to $350. Repairing the wall afterward would cost you an extra $250 to $750, depending on the size and location of the hole. A pipe burst would however cost $1,000 to $4,000.
Main line leak repair – $750 on average
Repairing ceiling pipes – costs an average of $675
Gas pipe repairs – $250 to $750
Mold removal – According to HomeGuide, the average cost of mold removal is $2,325. Most homeowners spend between $1,500–$3,150 or about $15 to $30 per square foot on a mold removal service.
Permits – building permits will depend on where you live and can cost anywhere between $175 to $2,000.
Renovation vs. Remodeling
While looking for answers to 'what does it cost to remodel a bathroom,' you will often see the two terms used interchangeably, even by contractors. Nonetheless, renovation and remodeling have different meanings when it comes down to practical application though they may overlap. Renovation means working with the available space; you'll just be replacing parts that already exist. This means that replacing floors, adding new lighting, painting, etc., all fall under renovation.
Remodeling involves all the things under renovation plus construction work. If you are tearing down a wall, expanding the bathroom, or making big changes to the plumbing underneath to add a new sink/tub/shower/ water treatment service, you'd be remodeling. Remodeling is a large-scale upheaval of the existing structure. Sometimes, what starts as a renovation can turn into a remodel if problems are discovered that require gutting a structure. Before embarking on a project, consider what does it cost to remodel a bathroom to decide if a renovation is better suited.
How to Choose a Bathroom Contractor
If the scope of your project is large enough and requires different specialists, it's best to have a general contractor coordinate your remodel. Lining up subcontractors (plumbers, electricians, carpenters) one after the other will create overruns, mistakes, and delays. There has to be a cohesive and coordinated plan to tackle the job to avoid such pitfalls. The general contractor can obtain materials and permits and direct the subcontractors in an ordered manner. For a complete in-house team, hiring a design-build firm means you won't have to worry about the execution of the interior designer's plan. This is because a design-build firm can take the project from the planning stage to construction and through to completion.
However, as you research 'what does it cost to remodel a bathroom,' be sure to research the contractors. Read reviews online and inspect their portfolio. You can also rely on recommendations from friends and family, but check that the contractors you choose are licensed, insured, and bonded.
How to Finance Your Bathroom Remodel
You may not have all the money to pay for a full bathroom remodel at once. In that case, there are other options you can explore, such as:
Home equity loan – you get a lump sum upfront that is paid back in fixed monthly installments on a prescribed term.
Line of credit (HELOC) – this is a revolving line of credit that allows you to draw on it as the need arises. It is useful if your bathroom remodel costs more than you had anticipated. Both the home equity loan and HELOC are a means to borrow against the equity of your home.
Personal loan – an installment loan paid in fixed monthly payments.
Balance transfer credit cards – these come with zero interest on purchases for up to 18 months though you do need to pay back the amount owed before that time since the interest rate will reset to the regular rate.
Be thorough in your preparation for a bathroom remodel. Write in detail the layout and updates you want, and conduct research on materials as well as contractors. Also, ensure you get a comprehensive contract outlining everything pertinent; costs, timeline, warranty, payment schedule, damage handling, etc. This will help you out a great deal in the long run!