Different Construction Contract Types to Know When Building a House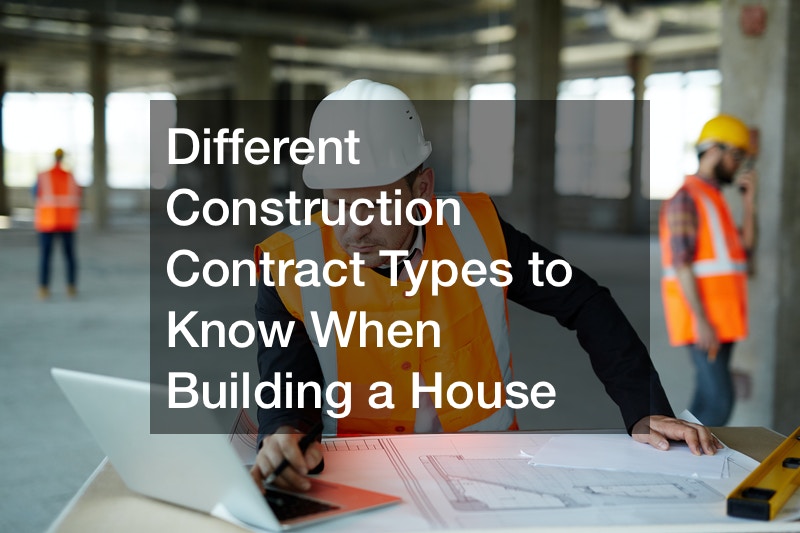 When you build a new house or renovate an old one, you need to choose the right contractor for the job. This guide gives you an overview of different construction contract types for new homes and how they differ from one another. Understanding the benefits and drawbacks of each contract type is vital before deciding whether to settle on one.
The Importance of Contracts in Construction
Construction contracts provide the basis for all other aspects of a project, including design and management. Without a contract, there would be no agreement on what to do or how to do it. You may also not know who your contractors are, where they come from, or whether they have experience with similar projects. Therefore, having a contract will ensure that the contractors, whether you know them or not will work within the agreement
3 Main Types Of Construction Contracts
The following are the three different construction contract types you need to know before starting a construction project. The contracts are general in nature and apply to all types of construction projects.
General Construction Contracts
A general contract is one of the different construction contract types that cover a project's entire scope of work. General contractors typically have many different subcontractors working on various aspects of the job at any time. This type of contract can be used for large-scale projects such as building an office complex or a new highway interchange. It can also be used for smaller jobs, like remodeling an existing home.
A general contractor will usually take care of hiring the necessary subcontracted workers, overseeing the progress of the project, and paying them once they complete their tasks.
Advantages
A general contractor has access to a wide variety of skilled labor and material resources
The contractor can often negotiate better prices with suppliers than the property owner
A general contract allows you to focus on other important matters rather than managing the project's day-to-day operation
Disadvantages
If the general contractor you work with leaves the company, the whole project could come to a halt
You may get into legal trouble if the general contractor doesn't pay its subcontractors on time
Specialized Construction Contracts
Different construction contract types are available under this category; each designed to meet the needs of a particular type of project. This type of contract is used when a developer wants to build a custom house from scratch. In this case, the developer hires a general contractor, who then hires a design firm to create plans for the home. Once the city approves the plans, the general contractor begins construction.
It is one of the different construction contract types which are ideal for developers who want to save money but still retain control over the final product. However, it does require a lot of upfront planning.
Advantages
You have complete control over how the finished product should look
There is no need to hire separate architects and engineers
It allows you to choose exactly which features you want to be included in your building
andlt;/andlt;/spanandgt;ulandgt;
Disadvantage
andlt;ulandgt;
It requires a lot of upfront planning and coordination
andlt;/andlt;/spanandgt;ulandgt;
Subcontracting Agreement
This type of contract lets a developer hire a general contractor to oversee the construction of a project. The developer pays the general contractor directly and then hires subcontractors to do the actual work.
Advantage
Subcontractors can be hired quickly without having to go through a lengthy bidding process
Subcontractors are more likely to accept lower wages because they know they won't be paid until the project is completed
Subcontractor payments are easier to track
Disadvantage
A general contractor must be able to handle multiple projects simultaneously
You may hire a general contractor who does not have enough time or expertise to manage the entire project
Types of Subcontractors in Home Improvement Projects
andlt;/andlt;/spanandgt;ulandgt;
Roofer
A roofing contractor is someone who installs or repairs roofs. They usually specialize in installing new roofs on homes and other buildings. A roofing business may also repair existing roofs. If you have an old leaky roof, then this is something that a residential roofing company should be able to fix.
A good roofer will ensure that their work lasts for years and does not require constant maintenance. If you want a quality roof fixed, you should choose a roofing contractor with experience dealing with roofs similar to yours.
Electrician
An electrician service involves all sorts of electrical work, including installing new outlets, lighting fixtures, and appliances. A licensed electrician should also be able to install smoke detectors and fire alarms. You must choose an electrician with experience working on your specific type of home or building. It would help if you asked the electricians questions about their past projects so that you can get a feel for their skills.
Siding Installer
Siding installation covers the outside of a house with panels made of wood or vinyl. This is done to protect the exterior of the home against weather damage.
Siding companies remove old siding and install new panels. They will also ensure that the new panels fit well into the surrounding area. While hiring siding installers isn't hard, it does require some knowledge and experience before you decide who is suitable for your home improvement project.
Painter
Different construction contract types are available when it comes to painting projects. This is because painting contracts vary by state. It is therefore important you check out the specific requirements in your area before hiring a painter for your home renovation or construction project.
The key areas to consider include whether the painter has insurance, if they provide references from previous clients, and if they clean up any messes made during the project. If after reviewing this information you still feel unsure, ask for samples of their work and see if you like them yourself!
Plumber
Homeowners should not worry too much about the plumbing contracts they sign. Different construction contract types for plumbers cover any repairs needed within one year after signing the contract. A few won't, however.
If you are unsure of what is written in your contract, ask your plumber if their company covers a specific number of years, like five or 10, before they have to start paying out of pocket. Then check the fine print to see if something else applies. For example, some companies require annual inspections of all appliances, including water heaters, so you might want to ask whether those inspections are included in the contract price.
Pavement companies are experts at laying down concrete walkways, driveways, patios, and sidewalks. They can also lay down asphalt shingles and brick pavers. Paving companies is often hired to build large commercial properties such as parking lots and shopping centers.
Landscapers
Landscaping is not an easy job, so it is important to know whether you are getting someone who knows what they are doing. Hiring a professional landscaper will save you time and money by cutting out all the steps it takes to design and plant your garden yourself. But don't just take our word for it; read some reviews from clients who have hired and used a professional before. If they provide a written quote, you should ask if they include any extra charges, so you know whether they will end up costing you more than you expected.
What to Look for When Signing Construction Contracts
With different construction contract types, it is always important to ensure that you are making the right decision. A good contract should include everything that will affect your business-from legal requirements to terms and conditions. These documents outline the scope of work, payment arrangements, timelines, and performance indicators so you know exactly when and if you'll receive any funds. Some projects may require additional services like design reviews or insurance coverage, which can cost extra money.
Before signing any contracts related to the construction project, it is important to understand what will happen from start to finish. Contractors should have detailed written estimates available to show you exactly what each stage costs before you commit to the project. This ensures everything runs smoothly throughout the whole process.
Five Suggestions for Defending Your Rights in a Construction Contract
Construction contracts are complex documents that can be difficult for the layperson to understand.
The construction industry is also notorious for its high turnover rate. This means that not all the construction companies you know are legitimate. As a homeowner, you may not know what to look out for during negotiations, which could lead to signing away important rights at the start of the project. If this happens, it can limit your ability to build things later. Here are some tips to stay safe when hiring contractors for your building project.
1. Have everything In Writing
The best way to avoid problems is to get everything in writing. If you ever feel like someone is not living up to their end of any agreement, you should ask them if they will sign a written document stating what's going on. It may make all the difference between legal action and peace of mind. If there are any changes to the original agreement, they must be made in writing.
2. Have an Attorney Review the Document
A lot goes into building contracts, especially if they involve large sums of money. Even though you may not intend it, it's easy to overlook details during the planning phase, but these can become serious issues later down the line.
You may think that having an attorney review the document would cost too much money. but if you want to ensure that everything is fair and square between you and the contractor, you need to pay them to look over the contract. An attorney will know what needs to be changed and what needs to stay the same.
Read It Carefully
You must read through the entire contract before signing it. Make sure that you understand every term and condition. Don't just sign something because the contractors convinced you to. otherwise, you could pay more than you bargained for.
The legal language is often dense and difficult to understand . Always ask if any document contains important information that hasn't been discussed previously. Don't sign anything in red ink unless the context makes it clear that this is normal practice. Also, be wary of contracts that seem too good to be true.
Ask Questions
If you don't understand anything in the contract, ask the person who drafted it. They will be able to explain things to you so that you fully understand what you are agreeing to. You might even find out that you didn't agree to something that was actually in the contract.
Ask the contractors what they know; don't just accept their word for it-especially if they're new to the job. If they give you a quote or estimate that's far below market rate, then you need to ask why. Do some research, talk to people who've worked on similar projects before, and compare prices online to get a feel of what kind of range you should expect to pay.
Keep Copies of Everything
It is really easy to lose track of what you have agreed to during a building project, especially when you are dealing with different construction contract types. Keeping a copy of every document helps ensure all parties stick to their agreements and keeps things running smoothly. Ensure that you keep copies of everything. This includes emails, text messages, phone calls, and other correspondence. This way, you'll always have proof in the case of future disputes.
Bottom Line
There are different construction contract types that vary from type of project to type. The most important thing to remember is that the form should reflect the client's needs and what they require to complete the job. You should also ensure that your contract has all of the necessary information for both parties, so there will be no confusion later.