How to Create a DIY Contemporary Garden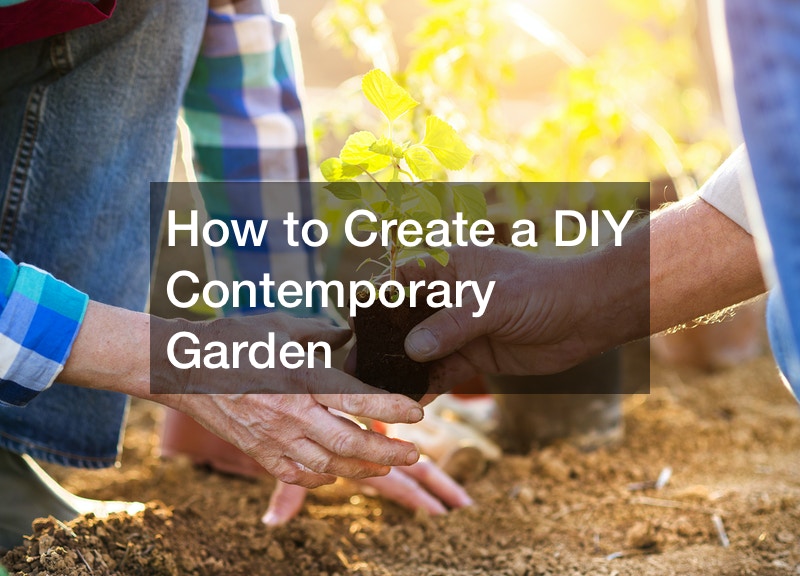 Many people might think that contemporary gardens only feature stainless steel and straight lines. However, a modern garden incorporates much more than that, with creativity and various elements transforming a lifeless, boring space into an inviting yet stylish area. Regardless if you have a small or spacious garden, knowing the right ideas to adopt is essential to ensuring a fabulous outcome.
The following are some DIY home garden ideas you can implement to change your yard into a beautiful and chic place to spend more time with your loved ones:
1. Artfully Use Hard Landscaping Elements
A key feature in contemporary yards is incorporating hard landscaping elements (hardscapes), including steel, concrete, stone, and smooth stucco. These materials provide a cool yet inviting appearance when used moderately. When your area has many of these elements, it is a good idea to add color.
Adding color subtly to different aspects of your hardscapes ensures you can add style to your yard without losing modern aesthetics. Typically, you want to pick light shades such as sandstone or pebbles that make your concrete components feel more inviting.
Aside from these, you can include a custom fence installation among your DIY home garden ideas. You can utilize this installation to enhance the walls around your yard, such as using rusted and weathered Cor-Ten steel on a low horizontal fence to define space. Besides, you can opt for a horizontal wooden structure to retain your walls, adding a decorative backdrop with a warm tone to your area.
Studying different paving products and their designs also helps you see the patterns and styles they best match. This information can aid you in knowing how to combine different paving items to handle your garden needs. For instance, you can interlay slabs with gravel to zone spaces, choose dark-colored tiles to deliver a high-end appearance of granite, or pick brightly colored options to make your space look bigger.
Besides these, working with colors allows you to add dimensions to your garden, such as creating separate areas using slabs in complementary colors. Terracotta hues in natural sandstone are a good option when seeking to add a rustic yet contemporary look to your yard. Irregular-shaped slabs draw the eye to sleek finishes and angular lines of the furniture placed in your garden.
2. Choose Your Paving Product
You can find a wide range of paving products that can help you add a statement look when carrying out some DIY home garden ideas. Although the market offers multiple options, below are some of the most popular paving items that you can use for your contemporary garden:
Weed Control Fabric
This fabric keeps weeds at bay while allowing water and nutrients to pass through the soil. It is ideal if you have borders and beds around your garden, since you can cut around existing plants or cut to size according to your needs. In addition, you can place it over mulch products for enhanced weed control and beautifying your grounds.
Stepping Stones
This paving type allows you to add a fun and practical element to your garden, forming a path through chippings, lawns, or decorative gravel. You can find them designed in different materials such as sandstone, limestone, and patterned construction, which let you incorporate your personality into DIY home garden ideas.
Block Paving
These blocks come in different textures and colors that enable you to pick a shade that seamlessly suits your garden style. You can also choose to seal the block paving, enhancing the protection of the surface from staining and preventing fading.
Paving Packs
Paving packs enable you to blend rustic style with DIY home garden ideas to create a contemporary look. You can select from varying sizes, colors, and pack types to address your dream garden appearance.
British Standard Paving
Common among British urban landscapes, you can form an English feel to your garden using British standard paving slabs. These slabs are also suitable for high pedestrian traffic sections, making them a perfect option when you have an active family home.
Outdoor Tiles
You can include outdoor tiles in your DIY home garden ideas, enabling you to lay them in several ways for unique layouts. This paving option is available in different sizes, shapes, colors, and textures to ensure you can find tiles best suited for your garden style. Garden tiles feature high-quality construction that makes them resistant and durable to withstand different weather conditions without cracking.
Single Paving Slabs
Single paving slabs have different colors and designs, including smooth and rough-looking finishes. You can also enjoy future garden renovations with ease using these flexible paving products.
3. Incorporating Foliage and Plants
Investing in plants and foliage is among the best DIY home garden ideas you can adopt. Strategic plants can add warmth to the layout of the landscape while helping connect different sections of the space. When you feature trees in your garden, it is advisable to contact an arborist to check and maintain them for general environmental safety and health. Moreover, you should get regular and professional guidance from tree trimming services if you intend to grow trees.
Evergreen plants like bamboo need occasional feeding and a bit of watering, making them a popular choice for garden upgrades. Their nature also means they remain in good condition throughout the year. Another plant you can add to your yard is Rosemary, which produces seasonal blue and purple flowers. You can also conveniently use Rosemary's aromatic leaves to prepare various dishes.
You need to grow your plants strategically for the best results, such as adding one brightly colored plant in a plain yard to deliver a simple yet beautiful masterpiece. When you have a smaller garden, you can grow plants and flowers in display containers or an old wheelbarrow to add color and texture to your space.
Using pollinator-attracting perennials and native plants allows you to integrate balance into a structured modern space. The added benefit of seasonal visits from butterflies, hummingbirds, and bumbling bees ensures your garden can avoid being static.
4. Exterior Décor
Exterior décor is vital when completing your DIY home garden ideas since it will determine the atmosphere and reflect your personality. You can artfully add different furniture to your garden for comfort and style, such as tables, benches, and swings. If you have older pieces, you can perform furniture refinishing to give them a new look that adds a vintage feel to your contemporary space.
Another aspect to consider when customizing your exterior décor is to choose accessories that complement your garden. You do not want to add personality and disrupt the minimalist aesthetic of contemporary design. Hence, it is best to avoid following trendy décor and pick colors and shapes that match your plants, paving style, and preference. For instance, using a cushion that shares a color with an ornamental flower in your garden perfectly blends with your landscape. It also ensures you do not have to worry about going out of fashion on time.
Adding lighting elements to your decor is also essential to upgrading your garden. An in-table fire pit ensures that your loved ones and guests enjoy long summer evenings in the outdoor area. Additionally, you need to install quality lighting systems that deliver illumination and proper ambiance. You can get bronze fixtures that blend more effortlessly with the plants, making them less noticeable during the day.
5. Solar Panel Installation
You can install solar panels around your home to deliver consistent and energy-saving lighting to your outdoor area. Adding this installation to your DIY home garden ideas ensures you can take full advantage of the sunlight to spend more time in your garden at night without worrying about expensive electricity bills.
You can mount the solar panels on the unobstructed ground or fix them on your roof. The following steps can conveniently guide you in setting up the panels on a roof:
Erect Scaffolding
You need to start by setting up scaffolding that ensures your safety throughout the installation when being on your roof.
Set Up the Solar Panel Mounts
Next, you need to securely install the solar panel mounting system to support the panels' base. Additionally, you need to fix the mounts between 18 to 36 degrees, with the tilt facilitating maximum sunlight exposure.
Install the Panels
After fixing the mounting system, you need to set up the solar panel on the mounting structure. You want to tighten up all the nuts and bolts for durable stability, preventing accidental collapses or falls on windy days.
Set Up the Electrical Wiring
You can then wire your solar panels by installing electrical wiring on the structure. Typically, most people turn to MC4 connectors because these wiring products are compatible with all types of solar panels. It is critical to switch off your home's electricity supply during this step to avoid electrocution.
Connect the Solar Inverter
Next, you want to install the solar inverter by placing it near the main panel. Although you can set it up indoors or outdoors, it is advisable to keep it away from the hot afternoon sun if you choose to install it outside. Notably, keeping the inverters in a cooler area increases their overall efficiency.
Connect the Inverter to the Solar Battery
Afterward, link the solar inverter to the solar battery to reduce battery storage system costs and provide energy even on cloudy days. Upon finishing this setup, you should connect the inverter to the consumer unit to generate electricity. Including a generation meter among your installations allows you to track the solar panels' amount of power.
Test Your Solar Panels
Finally, start the power and test the newly set-up solar panel system. The installation is a success upon confirming that all components work properly, allowing you to begin enjoying a stylishly lit garden with a relaxing atmosphere.
6. Add a Water Feature
Including a water feature in your yard is another option to consider in your DIY home garden ideas. Water features break up the monotony in your yard and breathe new life into space, with the moving water soothing your senses for a more relaxing setting. Depending on your garden space, you can add a pond or creek in your yard to make your home unique in your neighborhood.
Moreover, if you desire the soothing appeal of falling water, you can design and create a backyard waterfall. You can construct it to recycle the water using expert plumbing techniques, enabling you to enjoy a beautiful garden without water wastage and high utility bills. You can also present a dramatic focal point by adding a fountain in a spacious yard surrounded by concrete slabs or plants.
When dealing with a small garden, you can go for a fall fountain that mimics a rain shower. This feature has a flat design that makes it a convenient option for users with compact spaces. Another water feature suitable for small areas is a hanging fountain that converts a boring wall into a stunning and exciting component of your modern garden.
You can add a custom pool in your yard to increase fun during nighttime family events. A spacious area allows you to design the pool in unique shapes, including stylish slabs around the pool borders that seamlessly blend with the water. However, if you have limited space available, you can install an above-ground pool or set up a hot tub. These features offer a compact yet comfortable area to unwind and cool off on a hot day while looking great in the garden.
Whether you have a small or sizable yard, understanding different aspects of the garden ensures you can find the materials that effortlessly merge to create the perfect contemporary space. The DIY home garden ideas presented in this piece enable you to identify the different factors to analyze for satisfactory results. This information also aids you in understanding how different materials and elements work in a garden, making your shopping decisions easier. As you begin your adventure of upgrading your garden, always remember to obtain products that you know how to handle or contact someone who knows how to deal with them to avoid mishaps.