5 Cool Home Improvement Projects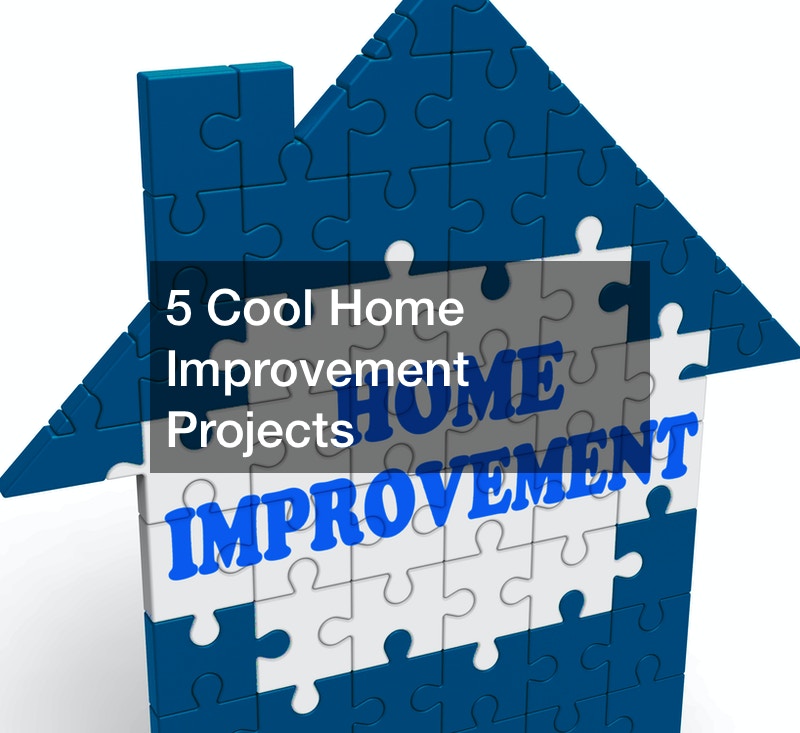 Whether you want to improve the resale value of your house, or you just want to make your home a better space to live in, home improvement projects will help you achieve your goals. Here are five cool home improvement projects that you should consider taking up.
(1)Clean and Replace AC Filters
Your HVAC unit is responsible for keeping you warm when it is cold and cool when it is hot and humid. However, just like most people, you have probably neglected yours for the longest time. You see, components like the air conditioner's fins, coils, and filters need regular maintenance for the unit to function efficiently and effectively.
To guarantee that, here is what to do.
Clean- By cleaning your air conditioner, you allow it to perform efficiently by reducing pressure and stress because you will have eliminated the debris and dust that accumulates on the unit over time. You see, when your air filters are dirty and clogged, the normal airflow is obstructed, hence making your unit work harder than usual.
Replace- Technology continuously evolves so what was 10 years ago, is not going to suffice in the face of current modern technology. This is important to note because older HVAC units present such problems because they were designed to previous era standards.
If you have an older unit, you may have realized that it is not as energy efficient as it was when you first bought it. Technological advancements make newer models more energy efficient with features like improved compressor designs and eco-friendly refrigerants.
Ultimately, replacing or cleaning your HVAC unit will give you the peace of mind that you need to go about your days without worrying about breakdowns, or malfunction.
(2)Spruce up your Outdoor Space
Home improvement projects do not have to focus on the interior all the time. The exterior of your house needs some attention as well. It is easy to neglect your yard, especially if you don't spend much time outside. Now, the cost of renovating your outdoor space will depend on the kind of project you choose.
Some common projects include:
Setting up a garden- A garden will certainly make your outdoor space look aesthetically pleasing and add to the value of your house. As such, you may want to plant some flowers or plants to add some beauty to your space.
Moreover, you can make your garden functional and beneficial by planting edibles like onions, parsley, or even carrots. This also means you get to save a few coins because you won't be buying the things planted in your garden. The best part is that you will not have a hard time maintaining the garden because all you will be required to do is water it frequently and do some occasional weddings.
Refurbish the driveway- How does your driveway look? You probably don't bother about that, but a closer look and you will realize that it is dull and uninteresting. Of course, this is not good for the curb appeal of your house, and you may want to do something about it.
How about paving your driveway with colored carbon? That will certainly make it look more appealing and you will be more satisfied with how the exterior of your house looks.
Put up a picket fence- There is a reason why picket fences are still popular even if they were in fashion ages ago. The thing about these fences is that they will not hinder the view of the garden you have been tending to and the grass you have been mowing all while giving you a sense of security.
As if that is not enough, they are one of the easiest fences to put up so that you can do it on your own. Paint yours white, and you have a winner.
Plant trees- You can never go wrong with planting a tree or two in your compound. The tree will not only give shade and fruit, but it can also be a source of income when you hire tree cutting services to turn them into wood. If you cannot plant on your own, you can always get an arborist to do it for you.
Generally, beautifying your exterior space is part of home improvement and if you are not up to the task, you can get a landscape service expert to do it for you.
(3) Decorate Your Interior Space
There are so many things you can do to add to the beauty of your interior space. Some of the things you can do to improve the interior of your home include:
Add texture to your walls- How about an accent wall for your living room? It will certainly make your house look better. You can paint the accent wall a different color from the rest of the walls or have it texturized. Better still, you can have it covered in wallpaper.
Create a gallery wall- Aside from an accent wall, you can also have a gallery wall in your house. This is where you hang family pictures or unique art pieces. You can also do a bit of custom picture framing for your pictures to make them even more unique.
Get house plants- House plants not only make your house look unique and beautiful, but they also supply fresh air to your space and you certainly want that. In that regard, you may want to get an Amaryllis or Spider plant for your bedroom or living room.
Repaint your house- Perhaps you don't know this, but a fresh coat of paint on your walls can make all the difference. Simply buy a gallon of your favorite color and start painting away. Nevertheless, if you want a classic look, painting your walls brilliantly white would be the way to go.
Replace your curtains- Have you ever stopped to think about what new curtains can do to your space? Replacing your old curtains with new brightly colored ones can change the entire look and feel of your interior space.
However, not everyone will love bright colored curtains and that is perfectly fine too. If this is the case for you, then you will be better off getting some neutral-colored window blinds to complement your space.
(4)Declutter Your Home
A cluttered home doesn't look good, so as you can imagine, decluttering yours would be a form of home improvement. The best part is that decluttering does not cost you anything. Here are some of the areas that you can declutter in your house.
Your closet- This is probably one of the first places you should consider when thinking about decluttering. If you are like most people, you probably buy items of clothing that you wear once and throw them into your closet never to come out again.
Some people have closets filled with clothes that they have never worn. This not only makes your closet look stuffy, but it also robs you of space that you could have used to add other pieces. In that regard, you may want to take everything out and start sorting. By the end of the exercise, you may end up with a heap of clothes for donation or a yard sale.
To avoid clutter in your closet in the future, you may want to get a custom closet design that allows you to accommodate a specified number of clothing pieces so that you can declutter promptly.
Your kitchen- You have probably never thought of this, but a kitchen can be cluttered as well. All those soda bottles, take-out food containers, and delivery boxes are things that you do not need in your kitchen.
As such, you may want to do a clean-out of your kitchen and get rid of such stuff. While at it, you may also want to toss anything that is expired.
For the other areas in your house, you can collect everything that you don't need and either throw it away or give it out. Another way of decluttering is adding storage space to your rooms and making use of your walls for hanging stuff. You can also use your garage as storage space. Installing custom garage floors is a great way to improve the cleanliness of the space so more delicate items, like clothing, can be stored in the garage.
(5)Renovate Your Bathroom
Remodeling your bathroom can give a deep sense of satisfaction, not to mention, you will look forward to your grooming sessions. Here are some of the things you can do to improve your bathroom.
Use Color to Increase Room Size- Most bathrooms are quite small and if yours is one, you may want to make it appear bigger. To do that, use light colors like white or beige and avoid dark colors because they tend to make spaces look and feel smaller.
Do the same for the ceiling and watch your bathroom transform into something that you will absolutely love.
Add Mirrors- Mirrors in the bathroom are just for priming your hair and checking your makeup, or are they? Well, that is true, but mirrors can also be used as design elements for adding light to the room and visually expanding it.
One of the best ways to do this is by adding another mirror to the room aside from the one above your sink.
Add Lighting Fixtures- You probably inspect your face and hair in the bathroom but you will realize that most bathrooms usually have a single light fixture that concentrates on one spot and is quite dim. To improve this, you may want to add more light fixtures around the bathroom mirror or on the wall adjacent to your bathtub.
You can also set the mood in there by getting a dimmer switch. You can do this on your own or get an electrician to do it for you if you are not comfortable doing it. As you remodel your bathroom, you may also want to throw in a plumber, to ensure that your basement drainage systems are in great condition to avoid flooding in your home.
Tips for Home Improvement
As you think about improving your home, you could use the following tips as they will help you get the most out of your projects.
*Always plan before undertaking a home improvement project. That means you need to have a budget in place and stick to it. Planning includes choosing the materials you need right down to the measurements, texture, and color. It will be easier to stick to your budget when such decisions are made in advance.
*Consider combining your projects because this is a way of guaranteeing cost-effectiveness. For instance, if you want your drainage system repaired and your bathroom remodeled, find a contractor who can do both jobs. By giving them more work, you may be able to negotiate better rates.
*Have a home inspection service assess your home before embarking on some projects like roof repair, because you may end up causing more damage instead of fixing and improving.
*Budget for additional problems and unanticipated expenses. As you make your budget, be sure to allocate some funds to unforeseen expenses that may crop up in the middle of a home improvement project. This ensures that you do not tamper with other funds for your projects.
*Be ready to compromise. Granted, you have a visualization of what you want at the end of a home improvement project, but you want to keep an open mind and be willing to compromise, especially if you want to stay within budget. For instance, you may want to settle for a wooden or stone countertop instead of a granite one if your budget doesn't allow it.
*Do your research as far as pricing and quality of materials. Ultimately, you want value for your money, and reviews about products and service providers can go a long way in ensuring that you get it.
Home improvement projects come with a sense of accomplishment and satisfaction. By renovating and remodeling your home, you also give your estate lawyer an easier time when it comes to handing down your home to the next generation or when you want to sell it.