How to Update Your Bedroom Decor for Summer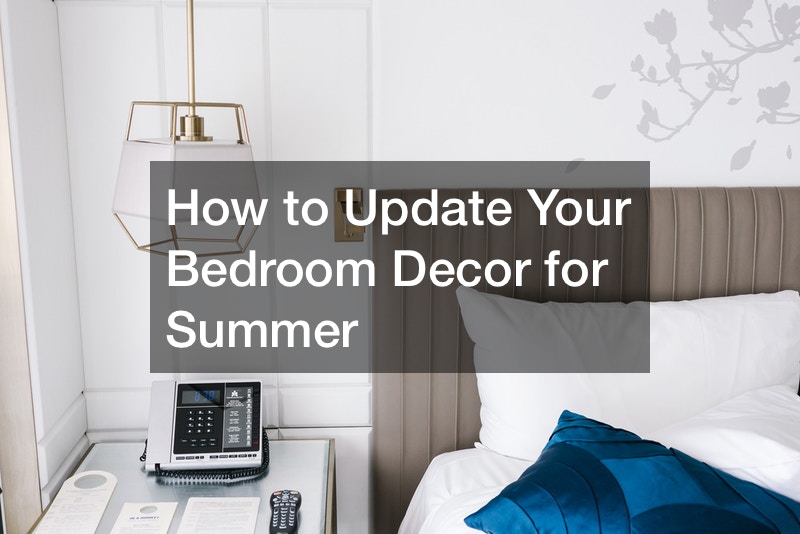 With the summer months fast approaching, your bedroom will either turn to your serene relaxation spot away from the everyday bustle of life or a spare room for use during the night. If you are looking for a haven away from your daily routine, consider looking into the following guideline of how to update your bedroom decor.
Camouflage Your AC Unit
Despite your AC unit being an essential part of your home, it will certainly not be an attractive element to look at. Hiding it away from plain view will require you to camouflage it as a natural part of your bedroom without obstructing it from performing its function. To help with this, here are some ideas of how to update your bedroom decor and keep your AC safely hidden in your bedroom space:
Incorporate a Wall-Mounted Cabinet – A wall cabinet will help you introduce a new piece to your bedroom without arousing any AC unit suspicion. Depending on your room decor, you can match your cabinet to your bedroom color theme, helping it integrate seamlessly with other bedroom furniture. The trick here is to use a cut-out cabinet, as this ensures that your AC unit continues to keep you cool through the summer. The cut-out design will also come in handy during your AC installation if moving into a new home while also making it easy for your technician to carry out any repairs unhindered. Make it a point also to pick out a cut-out design that speaks to your taste for added aesthetics.
Introduce a Mantel – Mantels are another way to camouflage your AC unit and will go a long way in helping you figure out how to update your bedroom decor as time goes by. For the best picks, go for a mantelpiece that assimilates with the decor in your room. Material to use for this can be marble pieces or metal frames, with the latter working well for most homeowners. You can also switch up your metallic piece for bold pieces such as wood mantels for a natural feel while also hiding your air conditioner.
Use a Shutter Box – If you have old shutter boxes in your home, consider using one to hide your AC unit. Revive it with some fresh paint and attach it around your AC unit. Remember to use one with open slats for airflow around your AC.
Incorporate Family Heirlooms
Heirlooms can often be left lying around in storage, while in fact, they should be the centerpieces of any room. If you have any of these and are wondering how and where to incorporate them into your bedroom, consider using the following tips:
Mix and Match – The majority of antiques are passed down from generation to generation, a factor that often means you will likely get an aged piece. Rather than having your family antiques all crowded in one area of your bedroom, mix and match them to fit into your space. Consider the materials that your antiques are made of, the colors, fabric, and designs. Based on these, identify the modern items in your space that carry similar traits. You can, for instance, introduce antique lighting fixtures such as lamps on your bedside drawer and statement clocks atop your book library. In addition to this, use well-maintained pieces to serve new purposes. Glass products such as vases can be used as light fittings, while crystal glasses can be switched up to work as planters.
Paint Your Pieces – If any of your pieces look a bit dull, try painting them to give them a fresh look. However, keep in mind that when looking for ways of updating your bedroom decor, finding the right balance will be crucial during this process. Bold colors on your antique pieces should not overpower your current bedroom pieces, as these will only clash with your existing theme. You can, for instance, paint neutral colors on furniture pieces to balance any brightly colored pieces that you may have in your bedroom. While you may also want to introduce a decorative design to your antiques, consider keeping it as close as possible to the original design. This will help you maintain the initial designs without changing them too much.
Update Your Workspace
Unknown to many, workspace designs and layouts have been found to impact efficiency, motivation, and productivity. Your workspace layout will be an essential element to consider if using it in your bedroom space, acting as a motivational tool to help you get out of bed and get down to work. For help with this, consider using the following tips before settling for any extravagant ideas of how to update your bedroom decor.
Add New Furniture – If you have trouble performing at your best in your bedroom workspace due to a lack of proper furniture, now is the time to update it. But before heading out on a shopping spree at your closest office furniture store, make a plan of the essentials you need. These can be items that you lack in, such as height-adjustable desks and ergonomic chairs. You can also add customized pieces such as cabinets and shelves, helping you introduce casual and chic styles where needed. This will go a long way in helping you feel comfortable and organized, helping you achieve increased productivity.
Paint Worn Out Pieces – Painting is another way that will allow you to update your workspace and help you save on costs for buying new furniture when finances are limited. Painting can be either done traditionally or with the use of spray paint. The latter, however, comes with numerous color choices that you can pick from while also helping you cut back on any painting preparations that traditional processes call for.
Hang String Lights
String lights are another addition to our how to update your bedroom decor guide, ensuring you benefit from an extra decorative element while also helping you illuminate dark areas in your bedroom. Some areas to use string lights in a bedroom include:
A Headboard – Headboard string lights add a touch of sparkle to bedrooms, with a well-framed headboard outline being a perfect place to start. Depending on the length of your headboard, you can either go for long or shorter string lights, with multiple rounds of the lights also allowing working just as well. String lights will often come in two types, either electric-powered or battery-powered rechargeable lights. The latter is the cheaper alternative and will help you cut back on any electrical services needed in the long run.
Photo Walls – Hanging string lights around your photo walls is another way to highlight some of your favorite memories. It also creates a unique element to your bedroom as opposed to the frequently used photo wall displays.
On Walls – Rather than hanging tapestry on your bedroom walls, string lights can act as a decorative element with the added benefit of bringing out unique wall colors. For additional beauty, you can also use different colored string lights for increased color variation.
Around Your Bedside Table – While the previously mentioned uses of string lights are mainly for decorative purposes, hanging street lights around your bedside table will mainly come in handy as a functional element. Getting a hold of your phone at night often means fumbling around and occasionally having items falling over, something that string lights will help get rid of. After their installation to your bedside table, you no longer have to grapple around during those late nights or early mornings. All you have to do is switch on your lights to light your space.
Let the Light In
Despite the summer months bringing much-needed light, not all bedrooms have the chance of getting the best of the light. This will especially be a problem if your room lacks enough windows and if its location is not correctly positioned for light access. Luckily, there are some ways to get around this to help with any problems you encounter while looking for ideas of how to update your bedroom decor:
Place Mirrors Near Light Sources – Mirrors are a great tool to reflect light and come in handy to expand your visual space. For the best results, place your mirrors either opposite your windows or next to your light source. Bigger mirrors will help you get brighter spaces, while smaller ones will give you less light.
Paint Your Walls White – White walls will also help you get more light into your room, acting as another reflective element in dispersing light to other areas in your bedroom. White walls also help rooms appear bigger than they are, serving as a multipurpose addition in your bedroom.
Get a Sunroom – If you have extra space around your bedroom, a sunroom will be the perfect fit for maximizing lighting. For this, you can tear down one or two walls that optimize the sun's location and customize it with features that complement existing elements of your room. Some of these can be adding furniture, with the most common being a coffee table, a rug, a sofa, as well as pillows. Depending on your preference, you can use your new room as a reading area or a hosting area when your friends come over.
Give the Walls a Fresh Coat of Paint
New seasons mean new changes to living spaces, and interior painting is one way to usher in the long-awaited summer. Whether you prefer white colors for added light as previously discussed or decide to switch it up with bolder colors, painting your walls calls for a bit more detail. Here are some steps to consider using when stuck on how to update your bedroom decor:
Plan – Have a vision and plan beforehand of how you want your room to look. This can mean deciding whether to use a single color on all walls or picking one part of the room to feature an accent wall. Next, decide if you want neutral, bright, or warm colors. Make it a point also to pick samples and test whether they complement your bedroom's existing elements.
Prep your room – Remember to prep your room and floor and cover all items with plastic sheeting. For your wall, cover your door and window casings as well as the corners and the moldings.
Paint, Ventilate, and Wait – After this, you can then proceed to paint. Make it a point to open your windows to help speed up the drying process. Depending on the type of paint you choose, your painting will either take some hours or a couple of days.
Add Accents
Accents can also help with bedroom decor for summer, creating a signature style and character for your bedroom. For some tips on how to update your bedroom decor, consider adding accents such as:
Wall Panels – Accent wall panels come in numerous forms and will often range from a faux accent wall panel to a stripped wallpaper finish or paint finish. Utilizing either of these options makes for a dramatic statement, with various colors, textures, and designs also being ideal for incorporating into your wall panels.
Chandeliers – Chandeliers can also work well as accent pieces, providing outstanding elements for any bedroom. Some examples of chandeliers that you can incorporate into your room include pendant chandeliers, cluster chandeliers, and gold chandeliers.
Artwork – Hanging artwork can also be used as additional accents, acting as the focal point of which your bedroom theme revolves around.
Put Heavy Bedding and Blankets in Storage
The onset of warmer months means it is time to put your bedding away in your personal storage. To get the best of your storage areas, make it a point to store your bedding and blankets in cotton bags or have them wrapped in cotton sheets. This will allow your bedding to breathe while also keeping them safe from bugs. In addition to this, you can store them in vacuum bags, specifically wool or synthetic beddings. For the last storage tip of how to update your bedroom decor, make it a point to fold your beddings to keep the creases away during your next use.
Incorporate Elements of the Outdoors
If you love indoor-outdoor living, incorporating outdoor elements should be your next bedroom decor idea. For this, you can introduce elements such as rocks, seashells, and beach sand stored in jars to remind you of your travels. Flowers can also act as an additional outdoor element, with desk or window vases invoking a fresh style to your room. Using natural flooring is another idea to consider, as it often helps maintain a natural add-on while also introducing warmth to bedrooms. Bamboo and wood flooring can help with this, being one of the most durable options for indoor use. Lastly, Introduce natural materials to your bedroom, with examples being rugs made with hemp and planters that utilize rattan and wicker textures.
The above guideline of how to update your bedroom decor for summer may help spruce up your room for the coming months, but they can also come in handy for use throughout the year. Consider incorporating them into your room for added character.