Elderly Home Care Tips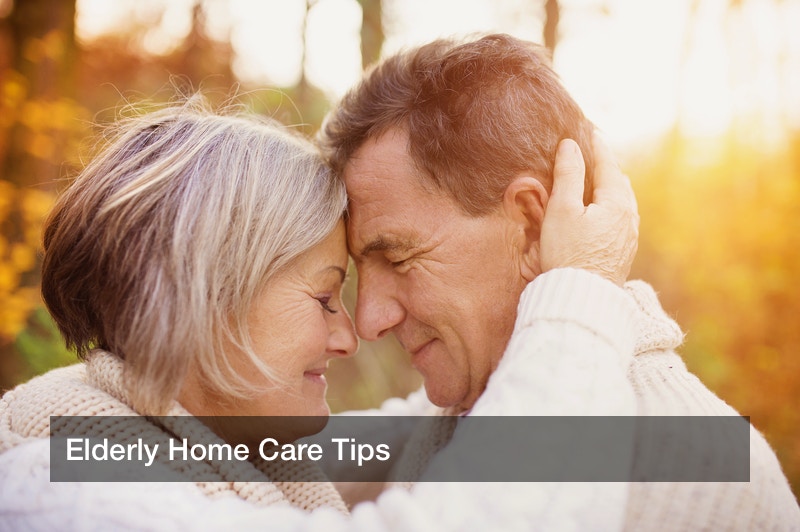 Like it or not, we're all getting older all the time and everyone deals with it differently. While some folks are able to stay active and maintain a healthy lifestyle as they become seniors, other folks don't have it so easy. For some people, getting older means their body doesn't function quite the same as it did when they were younger and even the simplest tasks can become very difficult.
Getting older hits some folks very hard and often requires that they move in with family. While the family may be very happy to take care of an ageing loved one, it does undoubtedly require some lifestyle modifications, possibly even some home modifications.
If you're going to be taking care of an elderly relative at home, here are some elderly home care tips to make the transition smoother:
Modifying Your Home
You might think transforming your home for an elderly relative is difficult, but the key is knowing what to do and doing it right. Transforming your home might be as easy as adding some senior-friendly fixtures in the bathroom or some conveniences in the kitchen or it might be a little more involved.
Make It Easy To Move
One of the most useful elderly home care tips you can use is to make it easy for your senior loved one to move. As we age, it gets harder to move and even if your mind is telling you to go faster, your body might not allow it.
Whether you know it or not, your home might be filled with cracks, uneven surfaces and other hazards that make it easy to fall. Here's how you can make it easier for your loved one to walk around:
Install non-slip flooring in your home, especially around the entryways.
Help improve footing by adding some non-slip stripping to your home's exterior.
Fix any cracks or smooth over uneven patches of driveway.
If by chance you've got hydraulic elevators in your home, make sure there's something to hang on to if your loved one is going up or down.
If you need to, install a ramp on the outside of your home so your loved one can get in and out of your house.
If your stairs don't have them, install rails on either side of the staircase.
Check around your home's exterior for any leaky roof repairs that need to be addressed. A leaky roof might be the cause of cracked pavement or household leaks, which can contribute to uneven surfaces and slip-and-fall accidents.
Spruce Up Your Kitchen
When it comes to useful elderly home care tips, the name of the game is accessibility. You need to create an environment that makes your loved one feel right at home.
You can do just that by making some slight modifications to your kitchen, which will also improve its functionality.
You can get kitchen appliances that are easy-to use and have easy-to-read controls.
You can convert your oven so that it's a side swing oven, allowing for easier access.
You can add drawers and easy-to-reach shelves that make everything accessible, while freeing up counter space.
You can install pressure-balance valves to regulate the temperature of your water; that way your loved one doesn't burn themselves after turning on the sink.
Make items in the pantry easy to reach.
Get Things Fixed
If you've got a loved one moving in, one of the best elderly house care tips you can take advantage of is to fix appliances that may be on the fritz. If your home's HVAC system for example, has been malfunctioning, call a residential cooling repair company to come fix it. Whether it's your home's HVAC system or a bedroom air conditioning or heating unit, you need to make sure your loved one feels relaxed.
If you need to make a roofing repair because part of the house has a small leak or is drafty, call a roofing services company to come and put a patch in. if nothing else, this allows you to address housing issues you probably needed to deal with anyway.
Making A Loved One Comfortable
Moving in with family can be difficult and your loved one may be resistant to change at first. One of the best elderly home care tips you can have in your arsenal is making them as comfortable as possible. One way to do that is by transforming the bedroom they'll be staying in, into a welcoming environment.
It's recommended by interior designers that a room's decor every five to 10 years, so this is the perfect time to update your spare room. You can add some colorful wallpaper or some fresh flowers or even a TV to make them feel comfortable and welcome.
Have The Right Equipment
Another one of many helpful elderly home care tips is to make sure you have the right equipment on hand if you're going to be taking care of a loved one.
For example, you might want to consider investing in IV therapy for a loved one. Or it might be something more advanced, such as a stair lift to help a loved one get up and down.
Medical Alert Device
When it comes to elderly home care tips, one of the most important to use and apply is getting a medical alert device for your loved one. Many companies offer wearable products with an urgent response button, so your loved one can get the help they need and quickly if something unexpected happens.
ACTIVATOR Poles
ACTIVATOR poles help increase your loved one's mobility and balance and, for many, they can be a welcome change from traditional walkers or canes. If your loved one suffers from chronic pain or things like Parkinson's disease or multiple sclerosis, these can prove very useful.
Assistive Seating
When it comes to elderly home care tips, one of the most useful ones is finding ways to help your loved one stand up or sit down without much effort. Thankfully, many companies offer assistive seating devices that can be used to lift a loved one out of an armchair or a couch into a standing position. This works great if you have a loved one who has arthritis or other joint pain and struggles to move.
Long Reach Tools
Younger folks may take it for granted, but maintaining personal hygiene is very important to a lot of seniors to say nothing of maintaining their dignity. Fortunately, there are assistive devices that are designed to help seniors who have trouble reaching. This way they can maintain a small part of their independence, go to the bathroom in peace and easily clean up everything when they're done.
Recordable Alarm Clocks
Another way to help seniors, especially those with dementia problems of a brain injury, is to buy them a recordable alarm clock. Many of them are very user-friendly and voice-controlled, so they can be used to set daily reminders for taking medication or appointments or simple, everyday tasks.
Listening Devices
There's nothing more frustrating for an elderly person than not being able to hear. If your loved one enjoys listening to the TV, you can get devices that connect to a TV and then are worn like headphones to help them enjoy their favorite programs.
The Benefits Of Caretakers
Part of taking care of a loved one is knowing your limitations. Despite your best intentions, you may not be able to provide the care your loved one needs. If that's the case, one of the best elderly home care tips you can use is hiring a caretaker.
A home care aide will be able to provide your senior loved one with the care they need and there are many benefits to hiring one:
Personalized care:
One of the biggest benefits of hiring an in-home aide or caretaker is that they offer personalized care for your loved one. A good in-home caretaker will adapt to your loved one's needs and help take some of the stress off of you and your family by helping them with medications, going to the bathroom or whatever other assistance they require.
One-On-One Time
Whether your loved one needs help during the day or requires after hours medical care, the personalized attention given by a caregiver allows your loved one to be the center of attention. Their job is to be there to help your loved one with whatever they need and make sure they are comfortable and safe. Since they are providing in-home care, caregivers are able to address your loved one's needs much faster.
Cost Effectiveness
Providing in-home care to a loved one costs money, but there's a lot of flexibility when it comes to cost. Depending on where you live, there may be discounts offered for 24-hour live-in care. It's also important to note that home care usually costs less than nursing home care and good long-term insurance plans can help cover the cost as well.
More Involvement By Everyone
Believe it or not, in-home care also helps your family be more involved in your loved one's care. By talking regularly with the caregiver, you'll have a solid, direct line of communication that will allow for frequent updates and steady diaglogue, which will help alleviate any concerns you may have.
Companionship
Even if you and your family have a great relationship with your loved one and they're happy to be living with you, your family might not be able to be around as much as they'd like, especially with busy everyday schedules.
A caregiver can be, if nothing else, a welcome companion for your loved one when you and your family are not around. A caregiver will be a friendly face, a person to connect with and someone with home your loved one can have friendly conversation.
Independence
For many seniors who need care, losing their independence can be a hard thing to deal with. Among the most helpful elderly home care tips you can use is to find ways to help them keep that independence. A caregiver can help them with a lot of medical and physical stuff, but they can also help your loved one with the social aspects of life. A caregiver can drive them to different social activities–helpful things like dementia programs–and help them run errands as well as helping them set a schedule for eating, sleeping and socializing.
Peace of mind
No matter whether your loved one needs a little bit of help from a caregiver to maintain an active lifestyle or requires end-of-life hospice care, in-home care can give you peace of mind. It can also give your loved one peace of mind.
This is especially true if your loved one is on hospice care. Seeing your loved one in their final days of life can be difficult for everyone, but a caregiver can help them feel comfortable and as relaxed as possible.
Spending Time With A Loved One
There are many elderly home care tips you can take advantage of if you're taking care of a loved one in your home. But above all, it's important to make them feel comfortable, especially if they're not too keen about moving in.
So what can you do? Spend time with them. Give them attention (when you can) and help them in any way so that they don't feel like a burden.
If they suffer from dementia problems for example, play games or find ways to help keep their memory sharp–maybe pull out some old photo albums or old home movies to jog their memory.
If your loved one loves art, take some time to do a crafting project with them. If you're preparing their room in the house, doing a crafting project is a great way for them to help. The possibilities are endless with crafts. You could, for example, get some hose clamps for crafting and some Mason jars, and make a nifty coat rack that can be used to hang coats, hats and scarfs.
Taking care of a loved one isn't always an easy job. There are going to be good days and bad days. But by making the effort to make your loved one feel comfortable and welcome and doing all you can to give them they care they need, you're doing a great thing for someone you love in their time of need.