How to Elevate the Look of Your Home With These Services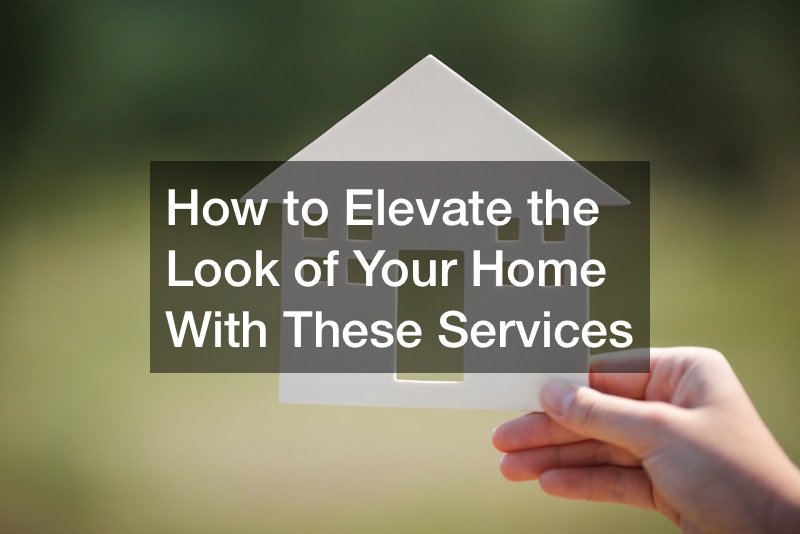 Whether you're trying to increase the resale value of your home before putting it on the market for sale or you simply want your home to sparkle with the same look as newly remodeled homes, there are plenty of ways to improve the look of your house. By calling in the right services, you can put new life into your home no matter how old it is or how long you've lived in it. Even freshly built homes can always be improved in their looks by enlisting the right contractors and companies. While looks aren't everything in people or properties, everyone loves living in a space that looks beautiful and feels comfortable.
If you're trying to "keep up with the Joneses" or impress colleagues and guests, elevating the appearance of your home will leave a great impression on them when they visit for dinner parties, meetings, and more. Of course, if you're elevating the look of your home, you should do it for yourself and your household first. By hiring contractors and companies that share the same vision for your home and work on it as if they were working on their property, you'll enjoy lasting results that will take the look and feel of your house to the next level. The services listed below are just a start of ideas of what you can use to upgrade your home's appearance, modern sensibilities, and functionality. If you get creative, you can take every room, nook, and cranny of your home to its fullest potential with the proper team of home improvement professionals.
Landscaping Services
When you're elevating the look of your home, you can start on the outside and work your way to the interior of the home by calling landscaping companies first. To make sure that your home receives the most specialized help possible, try to find companies that are used to providing landscaping services to newly remodeled homes. They'll understand the current trends and other factors that come into play for these types of properties. Additionally, they may be able to recommend other contractors who are good at working on homes that are undergoing current renovations.
Landscaping services can mow your lawn, edge your driveway, edge your walkway, remove old leaves and debris in the yard, and much more. If you have areas that lack grass or greenery, they'll be able to get your grass growing again in no time. You can also plant flowers, bushes, hedges, and other decorative types of greenery around the edge of your home for style or privacy. A perfectly manicured lawn is sure to improve the look of your home as soon as the landscapers finish the job.
Outdoor Kitchen Services
When you're looking at newly remodeled homes, you may notice a lot of renovations in indoor kitchens. Like interior kitchens, outdoor kitchens have lots of opportunities for remodeling to bring a fresh ambiance into the space. During the summertime, there's nothing better than being able to barbeque and relax in a space that feels comfortable and aesthetically pleasing. If your outdoor kitchen area currently feels drab, boring, or stale, you can freshen it up with outdoor kitchen services.
These contractors will be able to work in your current space and build something functional yet fashionable for your outdoor cooking. If you want to make your outdoor kitchen better equipped to entertain with more seating areas and open spaces, they can modify it to suit those goals. For a small, intimate get-together space, they can enclose the space to make it feel more cozy. Burgers and hot dogs aren't the only things you can cook in your outdoor kitchen area. With these services, you can add a pizza oven, bar, entertainment island, and countertop that makes it easy to prepare and serve any number of dishes in the great outdoors.
Hardscaping Services
Once you've got your lawn landscaped to your liking, you can focus on hiring hardscape installation services to get your patio and other hardscape areas in top shape. For newly remodeled homes, retaining walls, fire pits, and patios can enhance space outside of the house. When you're completely satisfied with the appearance of the inside of your home, focusing on the outside areas with hardscaping can kick that level of satisfaction up a notch. Another benefit of hiring hardscaping installation professionals is that they can maintain current hardscaping structures that may need repairs or reinforcement. This can make it feel safer to use these areas if they've been out of use for a while.
Elevator Services
To make newly remodeled homes more accessible for those who may not want to use the stairs or be able to use them anymore, residential elevator companies can install elevators in your home. Some elevators may be purely functional while others may be styled so that they complement the current interior design of your property. If you're getting to the stage in your life where you don't want to go up and down the stairs anymore or have a family member living with you who wants or needs an elevator, this can elevate the look of your home (no pun intended!).
Even if you are perfectly comfortable and able to use the stairs, adding an elevator to your home can make it more convenient. If you pick a stylish elevator, it can add a layer of elegance to the interior design of your home. Making functional improvements like building a residential elevator into your home that add to the aesthetic value of it is the best way to upgrade the look of your home while making it easier to enjoy the space.
Roofing Services
While your roof might not need to be replaced for a couple of decades depending on its materials, many owners of newly remodeled homes bring in roofing contracting companies to maintain the roof. Keeping a solid roof over your head is a practical part of maintaining a home. After all, if your roof is missing shingles or otherwise compromised, it can lead to leaks and other threats to the safety and well-being of the property. What's more, loose shingles and other issues with the roof can lower the perceived value of your home if you're trying to sell it.
To improve the appearance of your home, the roof can be a great place to start. If you've just experienced a major storm or other natural disaster that impacted your roof, calling the roofers sooner rather than later matters. If every home on your block or most of the homes in your area also experienced damage, it can be weeks before roofing services are available to work on your roof.
Garage Door Services
While the garage door might be last on your list of items that affect the appearance of your home, no newly remodeled homes would be complete without tuning up the garage door. If your garage door is malfunctioning or needs to be replaced, calling in the professionals will make a world of difference. Instead of attempting to fix or replace the garage door on your own, you can work with professional garage door repair services. Although a garage door can seem simple to fix on the surface, the complex mechanics of garage doors and the heavy size of them make them difficult for even experienced DIY home improvement enthusiasts to repair on their own. Garage door services will also be able to help you decide if a new type of garage door might fit your lifestyle better. You may also be able to choose a garage door that better fits the aesthetic of your newly renovated house.
Deck Drainage Services
For newly remodeled homes, it can be tempting to focus on all of the beautiful aesthetic changes you're making and forget about the structural changes that could help maintain the home. While you're renovating your deck, it can pay to hire professional contractors who are experienced in maintaining under deck drainage systems to give your under deck drainage system a tune-up. If you've never had an under deck drainage system, you might wonder if it's worth it to add one to an existing deck or build one into a deck that is being created.
When you want your new or current deck to provide a comfortable extension of your outdoor living space for years to come, it pays to get a drainage system installed. These types of systems are designed to divert water and other liquids that make their way onto the deck away from the vulnerable wood. Without a drainage system in place, homeowners run the risk of their deck rotting, molding, or experiencing other forms of water damage. Once that happens, you may not be able to salvage the deck.
In that case, you'll have to shell out for a costly replacement of the deck. Overall, spending the time and money on installing deck drainage systems can cost you less in the long run and preserve your deck. They'll elevate the appearance of your deck by keeping water damage and unsightly mold and rot at bay.
Crawl Space Services
Although crawl space repairs might not be the first thing you think of when you consider all the services that go into newly remodeled homes, they can make a huge difference in the look and function of your freshly renovated property. Crawl spaces are a breeding ground for mold, mildew, and other devastating types of damage that occur when moisture gets locked into a part of the home. Since crawl spaces are hard to air out, they're a common place for water to intrude and get trapped.
When this happens, mold can grow in the space and cause health issues for the family that lives there on top of expensive damage that will take time and resources to fix. To avoid these kinds of problems, you can seal your crawlspace or add a dehumidifier to them. For the best results, you'll want to consult with professionals who are familiar with working on crawl spaces. Installing a proper drainage system or certain types of pumps can keep water from building up in the area, as well.
Porch Services
If you want to sit out on your porch in the warmer months without worrying about swatting away bugs or other intruders, it may be time to call the screened in porch contractors. Many owners of newly remodeled homes like to enhance their porches as they improve the interior of their homes. If you have cats or other pets that like to go out onto the porch but you want to keep them safe from escaping, adding safety screens to your porch can make it fully functional for them and give you peace of mind when your pets go out onto the porch. Your animals will enjoy the freedom that this gives them and you'll be able to relax knowing that they can't get too far from the interior of your home.
If you don't have pets, there are still plenty of benefits to getting a porch that has a screen. One of the main perks is being able to relish sitting outside even when the weather and temperatures aren't ideal. What's more, you can store items on your porch more easily knowing that they are protected by a screen. Renovating your porch can expand your home and increase your ability to use the space for a range of activities. When you're entertaining guests on your porch or watching nature do its thing in the evenings from the comfort of your screened-in space, you'll be glad you called in porch services during your home renovation process.
Stucco Services
For adding or improving stucco ceilings and other surfaces, you'll want to call local stucco contractors. These professionals will be able to enhance your home with stucco walls, ceilings, and more. If you like the look of this material, it pays to have professionally trained contractors perfect it.
Many of the ways that you can improve your home aesthetically double as a means of improving your home on a structural or maintenance level. This can make your home sturdier, safer, or even more functional for your lifestyle. By following our tips, you'll elevate the look of your home in no time.