7 Popular Ways to Decorate Your Home in 2022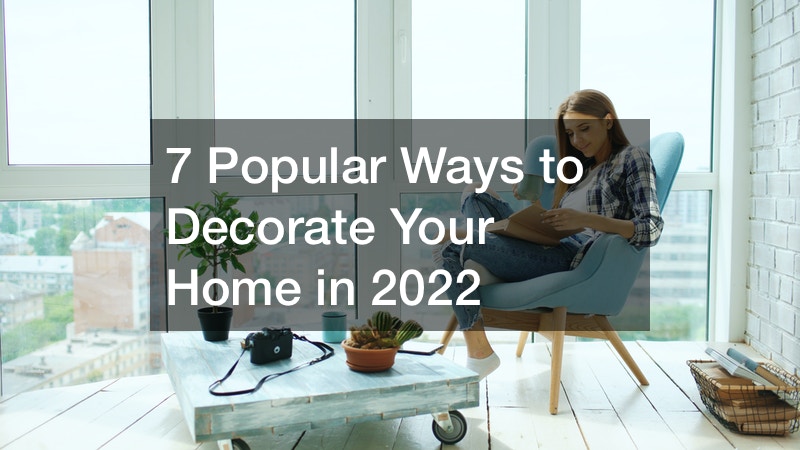 With the new year comes new ways to celebrate life, love, your family, and of course, your home! Take this new year to truly step back and appreciate your home. Give it the love and care it truly deserves with some simple DIY tips for home decor that is sure to be a people pleaser! By taking the time to decorate your home this 2022, you'll be able to not just enjoy it for the coming year, but also add value and functionality!
1. Update your Windows
Windows are practically the eye to the home's soul, and for good reason! Windows let in lots of natural light and are able to turn a home from cold, dark and depressing, to a relaxing and bright atmosphere. Windows come in a variety of shapes and styles, and usually have to be replaced every 15 and 20 years. If you bought an older home, chances are you haven't given much thought to the windows that come installed with the home.
This can be a problem, as some windows can be outdated, damaged, and even increase your energy costs. Some more outdated styles of windows include windows with bars on the outside of your windows, windows with cracks and sealant that are coming off, and even windows that don't exactly fit the style of your home, such as casement windows.
Fortunately, one of the most affordable and best home renovation projects for 2022 is installing new windows! Opt for Low-E windows that allow lots of natural light in while blocking out the sun's heat. This helps keep your home cool and also helps keep it warm during the colder winter months. Some popular styles of windows you should consider installing into your home include the classic double hung window, bay windows, and paneled windows. These come in a variety of sizes and can cover an entire wall of your home, or simply be put in the living room. It's important to replace all damaged windows. You'll notice once you replace these windows, you'll save big on energy costs.
You can even add your own window shades for added comfort and privacy! Roller window shades are a hot new trend for 2022, and they can be valuable for a future home buyer. In addition, you can also install window blinds with beautiful traditional or modern molding.
2. Install New Floors
Gone are the days where the epitome of luxury were thick, carpeted, green, or orange floors! Although this might be your preferred style, there are many other styles of flooring out there today that are highly desirable, comfortable, and durable! Some popular flooring today includes vinyl plank flooring that can mimic the look of natural wood.
Vinyl flooring is an excellent choice for home renovation projects, as it is durable, water-resistant, and doesn't warp with changing weather conditions as natural wood does. Vinyl flooring is also quite affordable and easy to install! You can do the installations yourself by doing some simple measurements, removing the base molding from your floor, leveling it out, and adding the vinyl planks neatly together.
Although replacing your own floors can be a great way to decorate your home in 2022, it's not an overnight project and takes several days to perfect. For added help, reach out to flooring installation services to update the look of your home. Switching from carpet to flooring can be a great decision if you're tired of having to constantly vacuum, or simply prefer the feel of hardwood floors under your feet.
If you do want to stick with carpeting, there are a variety of plush carpets that are modern and stain-resistant! If you do opt for carpet, make sure it's a color that suits your home's style, and a color that will be easy to take care of. Although white carpeting can be a refreshing and bright addition to your home, it can easily stain and must be properly maintained.
Whichever flooring you choose to install, remember that it should make you, as the homeowner, happy to walk on!
3. Add Some Greenery
Nowadays, sites such as Pinterest and Instagram are chock-full of people that have greenery in every square inch of their home. Greenery is one of the most beautiful ways to liven up your living area! Installing plant interior designs can help you bring in the new year relaxed, refreshed, and ready to take on any new stress!
In fact, the Ellison Chair in International Floriculture at Texas AandM University suggests that adding simple flowers and plants to your work or living area can help you feel more secure, relaxed, and even improve performance and energy! If you're thinking about adding some greenery within your home, opt for plants that are safe for both you and your pets. Indoor plants that are safe for cats and dogs, for instance, include birds' nest ferns, money trees, cat grass, parlor palm, and bromeliad.
Adding greenery can not only help you relax inside your home but also create a chic, Bollywood, or earthy-type style in your home! Pair your plants with woven baskets, colorful and decorative rugs, and install hanging plants from your ceiling to create a jungle paradise!
In addition, you can also add greenery to the outside of your home and turn your home from drab to lively! Some of the best plants to add to the outside of your home include rose bushes, herbs, vegetable gardens, even planting trees that can adapt to the local weather. For instance, Cedar, Willow, and Warf Juniper trees can all be a beautiful addition to your front or backyard, and they can also withstand harsh colder temperatures. For hotter climates, Acacia, Ash, and Buckeye trees can all be a great way to add greenery and style to the front of your home.
If you have existing trees that need to be trimmed, or you just aren't sure which type of tree will be able to suit your home, you can contact local arborists to give you more information. Not only will they be able to spruce up your existing trees and make them look beautiful, but also be able to help you decide which trees to grow in front of your home for decades to come!
4. Update your Living Room Style
Your living room is the centerpiece of your home. It's where you spend the most time with your family, where you make memories, and it's one of the first places that people notice in your home. Take this new year to renovate your living room and update its style to match your personality!
One of the easiest ways to decorate your living room for 2022 is to replace larger pieces of furniture in your living room. This makes it easier to tie in your living room and create a unique style without having to replace much else. For instance, if you buy a retro couch set with sleek legs in light blue, this automatically lets your guests know you appreciate the 1950s and 60s futuristic style! Once you replace larger furniture, it's easier to simply decorate around it. If you do want to create a retro living space, invest in some sleek glass, round coffee tables, some colorful rugs, and a flexible floor lamp. That's it!
This is just one example of how simple it can be to redo your living room to match your style! But, why stop there? If you really want to bring the new year in with a bang, feel free to renovate your living room, bedrooms, and bathrooms. Did you know that we as humans spend a third of our life sleeping in our beds? Why not upgrade it and make it comfortable and stylish? You can also tie in the look and theme of your bedroom to your living room for a seamless, styled house.
5. Renovate your Bathroom
The bathroom is perhaps one of the most used areas in the home (and for good reason). From taking baths to getting ready for work in the morning, your bathroom can either work to relax you or make you even more stressed if it's cluttered, has poor plumbing, or just doesn't fit your style. Fortunately, with the help of DIY tips for home decor and a bathroom remodeling company, they can get the bathroom of your dreams and add a little bit of luxury to your day!
Some of the most luxurious renovations to install in your bathroom for the upcoming year include a textured tile shower, a rain shower head, and double-vanity sinks for him and her. Farmhouse-style sinks, low-flow toilets, and renovated bathroom cabinets are all luxuries that can not only add style to your bathroom but also make you feel as if you're at the spa every single day!
Bathroom renovations don't have to be this extensive, however. If you're happy with your bathroom but want some ideas on how to improve its style, some simple things you can change include your shower curtain (if you have one), body and hand towels which can completely change the theme of your bathroom, and also any storage furniture you have in your bathroom.
To decorate a smaller bathroom, add some shelves or even incorporate art into your bathroom to really add some character! When it comes to decorating and renovating your bathroom, the changes are only as limited as your imagination!
6. Install a Deck
Nothing says you're a proud homeowner quite like having a deck to entertain guests, unwind with an ice-cold lemonade in hand, and have a place to take in the view. Updating the look of your patio can be a great way to make your home more luxurious, as well as add more square footage and extra space for get-togethers. If you have a deck, make sure to apply stain and sealant in order to protect your wood for the upcoming year.
You can also paint your deck in a variety of colors to brighten up the space, including white or lime green. Besides decorating and making sure your deck is properly maintained, you should also consider investing in some new patio furniture and patio lights! No one wants to sit on old furniture that looks as if it's days from breaking down. Some of the best modern patio furniture includes sectional outdoor sofas and wicker chairs!
Consider adding patio lights to brighten up the space, including hanging string lights that are battery powered and provide dim lighting. This adds an ambiance of serenity and relaxation.
7. Focus on Renovating your Backyard
Speaking of decks and patios, don't forget to spruce up your backyard for the new year. Some of the best renovations you can initiate this year include replacing your backyard fence, especially if it is worn down and not providing protection anymore.
Another one of the great DIY tips for home decor if you want to go for a more modern feel is to install a metal or steel cabling fence around your property. If you want to stick with a classic look, update or install wood fences around your property. Some popular choices for wooden fences nowadays include cedar and distressed wood. You can opt for the traditional vertical fencing, or instead update the look of your home and install a wooden fence with horizontal slats. In either case, wooden fences can add a layer of security, privacy, and style to your home (not to mention value).
Decorate To Welcome The New Year
Updating your home can be done in a variety of ways with these DIY tips for home decor from renovating your bathroom, to updating your furniture and style, and even renovating your deck or patio. These are all simple techniques and tips you can use to update your home's style and make it fit your liking.