5 Home Projects You Can Tackle Yourself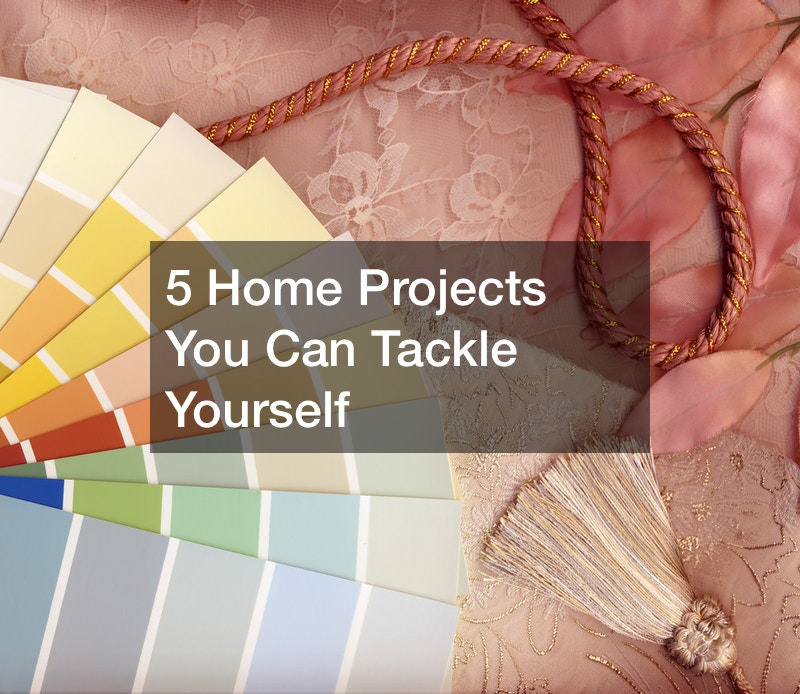 Although you may not be a professional contractor, you would be surprised at the number of tasks that you can accomplish yourself with a little guidance. There are hundreds of top diy projects for home that will keep you occupied in your spare time, but let's break it down into five main groups for simplicity. Some projects will require basic hand tools and supplies, while others may lead you to take a trip to your local craft store. The common factor with all these projects is that they will give you a sense of satisfaction and accomplishment while also improving the appearance of your home.
Basic Home Remodeling 101
While many home remodeling projects do require professional assistance, there are many top diy projects for home remodeling that are easier than you might expect. Painting is often an enjoyable project that can be accomplished yourself to brighten or soften the appearance of a room. The basics of interior painting are to tape off areas that you don't want to be painted and lay protective cloth over your flooring. Some walls may need primer, but others don't. It depends upon the color and base of the current paint and the material that the wall is made of. You can further accent your freshly painted walls with decorative borders.
If you're not comfortable with a paintbrush, you can opt for peel and stick wallpaper instead or you can just give your front door, ceiling fans, or doorknobs a new paint job to give your home a slightly updated appearance without overdoing it. Adding paneling to existing doors also results in a fresh look without breaking the bank.
Another way to update your home is by installing new windows. Although this task may sound complicated, window replacements can indeed be a diy home project, but you will need to set aside adequate time to complete this project and make sure that you have all the necessary tools prior to beginning. Insert window replacements are less difficult than full-frame replacements, so realistically evaluate your skill level before attempting to tackle this project.
Updating your flooring is another one of the top diy projects for home. You can easily revamp your flooring by using peel and stick vinyl tiles or using accent rugs to add character to your existing flooring. You can also give outdated tables and counters a falsified appearance of marble with paint and a glossy finish.
Bathroom and Kitchen Improvements
Although it may be wise to leave major plumbing issues in the hands of professionals, you can repair minor issues such as leaky faucets on your own. The steps of bathroom faucet repair are simplistic in nature. First, you need to identify the source of the leak, then you need to take the faucet apart and install new hardware. Instructions on how to disassemble faucets vary depending upon the type of faucet you have. For instance, ceramic disk faucets can easily be repaired by replacing the cylinder. The same process works if you don't have a leak and simply want to update the appearance of your kitchen or bathroom faucets
Framing your bathroom mirror is also amongst the top diy projects for home. You can find materials for framing at your local craft store and add your own style to the frame by painting it or even further accenting it with seashells. Bathtubs can be redone with beadboard trimming and you can always give your bathroom a welcoming appearance by simply adding throw rugs, scented candles, and a new decorative shower curtain.
Kitchen updates are also top diy projects for home improvement. Of course, you can just go out and invest in all new appliances and call it a day, but surely you would like to give your kitchen a welcoming vibe. Most people enjoy a morning cup of coffee, so setting up a specific area for your coffee pot mugs, sugar, and creamer is a popular way to make a kitchen more inviting.
Adding decorative placemats and seating, a bowl of fruit or vase of flowers, putting up a cute set of curtains, and accenting your kitchen with cute knickknacks that you can create yourself using craft supplies are tried-and-true ways that homemakers have used to design their kitchen areas for years. But you may want to take your project to the next level with some painting and woodworking.
Yes, it is possible to build your own cabinets without being a carpenter, but if that project sounds too much for you to imagine attempting, you can refinish your cabinets with paint or a wood stain or add new brass doorknobs to your existing cabinets. If you are an amateur builder but want to give woodworking your best shot, you can create your own holders for napkins and mail using kits from your local craft store.
Exterior Home Projects
If you are comfortable with a ladder and not afraid of heights, then you can handle a basic roof repair yourself. Initially, this may sound like a task that should not be on the list of top diy projects for home, but why should you invest in a roofing contractor if you are dealing with a minor leak that you can repair yourself?
First, you will need to determine the location of the leak. Small leaks affecting the attic can sometimes be resolved by clipping a nail that's accumulated frost. You can also often remedy a roof leak by repairing the vent boots or replacing the vents. Another solution is coating your roof with a rubber sealant. Tarping and caulking may alleviate the roof issue temporarily, but these options aren't long-term solutions.
You probably already know the basics of cleaning gutters yourself, even though, like most people, you dread the thought of tackling this diy home project. Well, the gutter issue goes smoother when the gutters are in good condition. Fortunately, gutter repair isn't as difficult as you may think. You can secure gutters that are loose or hanging by installing fascia brackets. Gutter aprons are also effective at preventing water from accumulating behind your gutter
Although major tree removal is indeed a task that should be left to professionals, especially if it's involving a large tree, you can trim your smaller trees and shrubbery yourself. If you are a novice at carpentry, you can also install wooden fencing for privacy. If you want to add flair to your current wooden fencing, you can do so by touching it up with a wood stain and planting flowers around the area surrounding your fencing. Flowers and shrubbery are also useful in concealing unsightly aspects of your yard.
Improving Your Home's Comfort Level
Certainly, all the top diy projects for home that are listed above improve the comfort or at least the appearance of your home, but when you think about it, there's one major factor that can determine the comfort level of even the most gorgeous home and that's temperature. You do need to be cautious when attempting to complete ac repair yourself as you will be dealing with freon, which is a potentially toxic chemical. Air conditioning and heating units should be professionally serviced on an annual basis, but basic ac repair and maintenance such as cleaning your unit's external components can be accomplished as a diy task.
First, you will need to disconnect the power source going to the main units, then you will need to thoroughly cleanse the area surrounding the unit before scraping debris off the fins using a butter knife and using a dampened cloth to wipe down the condenser fan. You will then need to hose the fins down and lubricate them with motor oil prior to cleaning the interior components of your unit as well as the coils and drain. Yes, it's a lot of work, but accomplishing this as a top diy project for home will potentially save you a lot of money and keep your unit running smoothly. Think of it as a spring cleaning for your ac unit.
Another aspect of improving the level of comfort in your home is pest control. Although, you can take precautionary steps in reducing the risk of encountering a problem with pests in your home, if your own efforts aren't successful at evicting these unwanted guests, you may want to contact a bug exterminator. When dealing with roaches and ants, there are products available at local retailers that can assist you in combating the pest issue yourself with bug sprays. Rodents can sometimes be defeated by either setting up traps or adopting a cat, but if you are dealing with a situation such as a bed bug infestation, it's recommended that you reach out to a bugs exterminator.
Some tips that can lower your risk of pest infestations are to keep up with your dirty dishes, wipe countertops down thoroughly, avoid leaving food out, caulk any cracks in your windows, and place your clothing in a hot dry cycle after you return from a vacation.
Home Decorating 101
Many of these top diy projects for home focused on remodeling, repairs, and home maintenance, but although it's advisable to keep up with home repairs and maintenance tasks, regardless of whether you decide to tackle them yourself or hire a professional for assistance, what really makes a house a home is when you add your own personality to it through home décor.
This may mean that you decide on masculine-inspired furnishings such as comfortable recliners, leather sofas, and oak end tables. You may be creative in nature and decide to crochet decorative afghans and needlepoint throw pillows to add a comfortable homey appeal to your living room. You may prefer frilly curtains, long basic drapes, or simple blinds. If you have an artistic flair, you can paint your own pictures, frame them, and display them on the walls. Your preferences display your individual personality and officially make your home become your own personal space.
So, whether you are out in the garage, building and sanding down shelving to display your beloved collection or sitting on your favorite cozy chair knitting a new quilt for your bedroom, your choice of which top diy projects for home interest you and which don't is also a reflection of your own personality.
Although we all need to have a leaky faucet repaired one way or another, we don't all need afghans or floral curtains, but some people are drawn to those types of projects. While some people wouldn't even attempt to pull out a skill saw and build their own cabinetry, other people do it with pride. Home decorating preferences and the associated diy home projects that pique our interest are individual choices that reflect our diversity and uniqueness. The end result is having the beautiful home of our dreams that illustrates who we are.
So, whether you are ready to climb up onto the roof, pull out a paintbrush and a can of baby blue paint, or if your idea of a DIY project is planting a rose garden or crocheting a blanket, follow your dreams and passion. Envision what you would like your home to ideally look like and strive to reach that goal. Although we all have our own strengths and limitations, never say the words, "I can't." At least give it a shot! If you can't manage to figure it out on your own, don't be ashamed to ask for help. But whatever you take from this article, hopefully, you are more confident in your ability to do anything that you put your mind to.