8 Tips and Ideas For Your Kid's Small Bedroom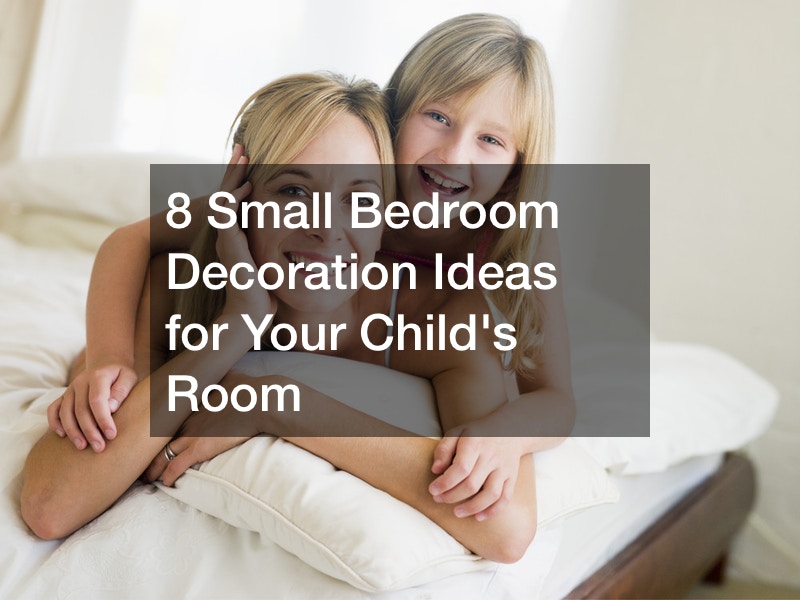 Decorating a child's bedroom can be a challenge. It's important to make it a space where they can play, read, relax, and depending on their age, study. It's even more of a challenge when you only have a small space with which to work.
The internet is full of DIY tips and tricks for decorating, organizing, and even building furniture. You might feel intimidated at the thought of tackling this huge chore on your own — but never fear. We've compiled a list of small bedroom decoration ideas that anyone can do. No matter what your budget or skill set, you can use these tips to make your child's bedroom look great.
Keep It Simple
When it comes to small bedroom decoration ideas, you don't have to go overboard to make a bedroom that is beautiful and comfortable. In fact, in a small room, it's better if you stick to the basics.
Start out with a bright or light-colored paint color. This will help maximize the space that you do have. Dark paint colors make walls seem smaller and more claustrophobic, which is the last thing you want in a small bedroom. If you've ordered a dark paint color for a small room, get a prompt UPS refund and swap it out for a brighter color.
Don't overcrowd the room with lots of furniture. Instead, stick to the basics: a bed, nightstand, bookshelf, and other necessities. There's nothing worse than having a small bedroom that is cluttered with furniture. This goes doubly for a child's room — after all, kids need a lot of space to run around. And just imagine trying to clean up toys in a crowded room!
Remember that you can make a beautiful space for your child without a ton of stuff. A few pieces of furniture, convenient storage space, good lighting, and some wall art go a long way.
Get Crafty and Make a Window Seat
Want to get crafty while saving space? One of those handmade small bedroom decoration ideas is making a DIY window seat. There are hundreds of ideas for projects like these, and they don't take a huge amount of craftsmanship or even complicated tools. Some just require a few wood pallets, fabric, and pillows.
A window seat is a great way to provide a comfortable sitting area in a small bedroom without taking up a lot of room. It is the perfect space for a child to read, color, play, or do schoolwork.
Consider building a simple window seat that doubles as book or toy storage. You can easily fit some shelves or storage space under the bench. This is the perfect way to tackle two problems at once without compromising the space that you do have.
Some easy ideas for making a window seat include repurposing shelves, benches, and wood pallets. If you have some simple household tools, you can have a beautiful window seat done in just a few hours. Then all you have to do is cover it with padding and the fabric of your choosing.
Thrift Furniture
Redecorating can be an expensive venture, especially if you are buying everything new. To save some money, try thrifting furniture or upcycling other furniture you have around the house. You might be surprised what you can find!
Don't rule out furniture automatically because it wasn't made for a bedroom. People have found uses for patio furniture, kitchen and living room items, and even home office furniture in their bedrooms.
You never know what you will find at a local thrift store. People have found expensive or antique items for just a few dollars. You may end up finding a new favorite piece for a fraction of what you would have paid in a mainstream store.
Don't write things off because they don't look exactly how you want them to, either. There are plenty of small bedroom decoration ideas that involve upcycling and repurposing furniture. You can paint it, rebuild it, cover it in new material, or even wallpaper it.
The bottom line is that there are endless ways to make old furniture new again. Even better, you can make it completely your own — or in this case, your child's own. All it takes is a little time, imagination, and crafting materials.
Create Fun Ways to Store Necessities
When you have a small space, you need to get creative with storage. Luckily, there are plenty of small bedroom decoration ideas involving ways to store books, toys, clothes, and anything else your child might need.
One great way is to utilize your wall space, building up instead of out. This might mean mounting shelves, hooks, or railings. If you don't have a closet, try making one with a simple clothes rack. Then mount a shelf above as an easy way to store shoes. You can even buy hanging storage drawers as a place to keep socks, undergarments, and other small items.
There are also great ideas to be found online. For example, did you know that you can find headboards that have storage space inside? There are even bed frames that have drawers built into the bottom for storing clothes. If you're willing to spend some extra money, you can find some extremely clever ways to keep your child's things organized.
Believe it or not, there are even ways you can DIY a platform storage bed. This, as the name implies, is a great way to store items directly in a bed frame, either with drawers or with cubbies.
It can be hard to teach your kids to stay organized. Well, let's face it — it's hard to convince your kids to do anything that's good for them, like getting invisible teeth straightening or eating their vegetables. But these fun methods can help them develop good organizational habits that stick with them their whole life. Who said that organizing couldn't be fun?
Keep Electronics to a Minimum
You don't need a huge range of electronics in a bedroom — especially one that is already hurting for space. Keep the electronics to a minimum. Yes, these days we all need access to the internet. Your child may need a private server in their study space so that they can do schoolwork. But aside from a laptop and a phone, they don't need their room crowded with technology.
When it comes to small bedroom decoration ideas, it's important to keep in mind that bedrooms have interesting psychology. By making them into a place for relaxation and sleep, you actually sleep better. As parents can attest, there are few things more important for a growing kid than making sure they get enough sleep!
Aside from the fact that too much screen time isn't good for kids, a small bedroom isn't a good place for it. You don't need a television, laptop, phone, and a hundred other electronics. Instead, keep it simple, both for your child's health and to keep the clutter and noise out of their bedroom.
It's also a good idea to have places where they can conveniently store their electronics. At the end of the evening, a laptop should go back to a desk or in a study area. A cell phone should go on a nightstand to charge for the night. This will help cut back on electronic usage while also keeping your child's room organized.
Utilize Natural Lighting
When it comes to small bedroom decoration ideas, lighting is also key in decorating any room — especially if it's an unusually small space. Keeping the room bright and light makes it feel larger and more spacious.
One great way to do this is to draw attention to any windows in the room. You can do this by putting in light-colored curtains that let in the natural sunlight. That doesn't mean you have to sacrifice privacy. There are many options for curtains that protect your child's privacy while still keeping the room bright and open. Make sure that you have an easy way to tie or draw the curtains back to let more light in.
Consider putting a mirror on the opposite wall from the window. This is a simple and easy way to double the natural lighting in any room. By reflecting the window, you're artificially making a second window, which will keep the room even brighter.
Make sure there is plenty of electric lighting in the room as well. If you don't have room for lamps or floor lighting, consider mounting lights on the wall. If you have a young child and are concerned about the room being too bright, you can always install light-blocking curtains. These help keep the room dark during naptime and early summer evenings. They're a lifesaver for many parents, especially for children who have difficulty sleeping. Speak to your local pediatrician about your children's sleeping patterns if they continue to be a problem.
Pick a Fun Theme
Just because you're working with a small space doesn't mean you can't have a fun theme. If your child is a little older, they'll probably want to choose a theme for themselves. Let them have fun with it and make it their own space. After all, they'll be spending a lot of time there.
If your child is younger, you will probably be in charge of the decorating. There are tons of small bedroom decoration ideas regarding fun themes — and you can set one up even on a budget or without a lot of room.
A theme also doesn't have to be over-the-top! There are plenty of subtle ways to tie a bedroom together. Wall art is one simple way to do it. By hanging pictures and matching the curtain and the bedspread, you can make a theme that your child will love — without it being in your face.
Remember that this is your child's space and should feel like a safe place where they can play and relax. For example, children of divorce often feel like they're living out of a suitcase while they go back and forth between houses. Every kid deserves to have a bedroom where they feel at home.
Consider Utilizing a Bunk Bed Style for Additional Space
Even if the bedroom will only be for one child, consider using a bunk bed style. This is called a loft bed and is commonly used in college dorm rooms. Why? For the simple reason that it saves space. Lofted beds are the perfect way to build up in a small space instead of out.
This bunk bed style means that you can put a bed on top of free space. This space is perfect for a desk and study area, a play area, a reading nook, and more. Of course, you will have to read up on safety tips to ensure that you install a lofted bed securely. Make sure you build it with a partner — trying to lift heavy materials above your head can lead to back or shoulder pain.
You may want to consult with a contractor to find the best and safest way to install this, just as you would consult with an electrician or plumbing service to make sure you had done a wiring or plumbing job correctly. There are some important things to consider, like whether you need to bolt the bed to the wall.
Figuring out how to decorate your child's small bedroom can be a challenge. Look to these small bedroom decoration ideas for help. If your son or daughter is still young, you'll need to figure out how to organize books and toys, especially knowing that these will get thrown everywhere. If your child is in their tween or teen years, they need space to read and study as well as relax. Getting all of this accomplished in a small space can be overwhelming.
Just because you're working in a small space doesn't mean you can't make a comfortable and functional bedroom. With the right tools and some creativity, you can make a bedroom for your child that is completely one-of-a-kind with these small bedroom decoration ideas. You may even consider continuing your renovations by obtaining siding services or replacing the windows in your home. The ideas are endless!