Six Interior and Exterior Tips to Upgrade Your Home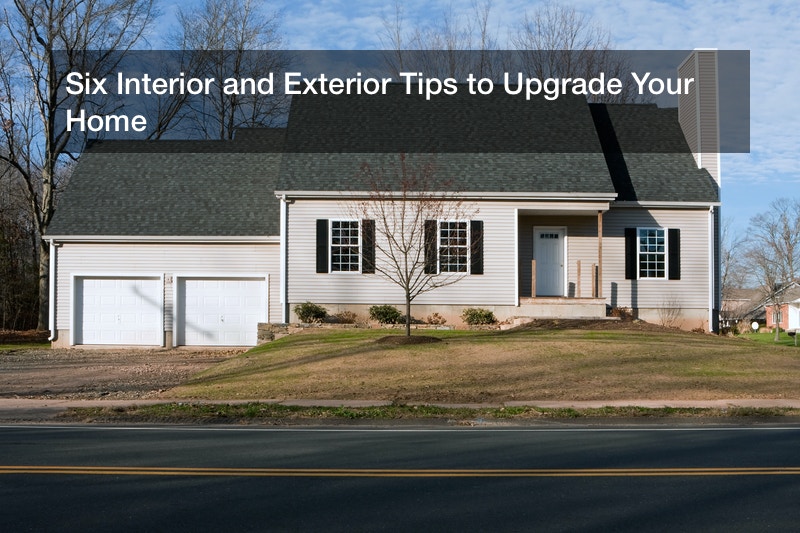 It is an unprecedented time. The coronavirus continues to rage across the globe. Donald Trump, Melania Trump, and as many as 34 White House Officials have tested positive for COVID-19. Plus, the second wave of the virus is already making its rounds in Europe — and health officials are having difficulty differentiating it from other seasonal ailments, like the flu and pneumonia.
That means it is just as important for Americans to stay home now as it was in March and April. How are Americans dealing with prolonged amounts of time indoors? "Facing additional months of distance learning and working from home, some are making extensive home improvements," The New York Times (NYT) writes.
Starting in Spring 2020, the trend has been going strong ever since. Faced with spending increasing amounts of time in and around the house, an unparalleled number of Americans are beautifying their homes inside and out.
Read on to learn some of the best tips for interior and exterior home upgrades.
Upgrade Your Roof
When it comes to exterior home upgrades, you would be remiss if you ignore your roof. According to U.S. News, the average roof lasts 20 to 25 years. While that may seem like a long time, heavy rains, turbulent winds, and pests can all affect the shelf life of a traditional asphalt shingle roof or metal rooftop.
If your roof has suffered water damage or damage from any other major event, it may be worth your while to get an estimate from asphalt or metal roofers. A new roof can recoup up to 100% of its value, Zillow reveals. "Even if you don't see a huge financial return, a new roof can make you more likely to get full asking price, lower time on market, and smoother negotiations," Zillow adds.
Of course, if you invest in a new rooftop, take steps to protect it. After replacing an old roof, it is important to consider related exterior home upgrades, like gutter guard installation.
First and foremost, it is absolutely essential to have a rain gutter system. Gutters protect your roof as well as the structural integrity of your home. If water pools on top of your roof, it may lead to a buckling or collapsed roof or parts of your roof buckling or collapsing. That, in turn, threatens the solidity of the rest of your home. What's more, without gutters, you risk gardens, flowerbeds, or parts of your lawn washing away, thanks to erosion.
Installing a gutter guard makes your gutter system that much more effective. Gutter guards trap debris, like leaves, twigs, and dirt, without impeding gutters' functionality. That means your gutter system draws excess water away from your roof, and you're able to get away with less deep cleaning of your gutter system.
Focus On Wellness
When investing in interior and exterior home upgrades, consider upgrades that will improve your health. For example, if you suffer from asthma or seasonal allergies — or a family member, roommate, or loved one suffers from asthma or seasonal allergies — did you know that you can reduce symptoms by regularly replacing AC filters?
A run-of-the-mill AC filter generally costs $7 to $10 and hardly qualifies as an update. Swap filters out every 20 to 45 days if you suffer from allergies, have multiple pets, or want to feel especially safe during the global pandemic. Of course, if your bill continues to climb after replacing filters or if your unit continues to put out lukewarm air after regular maintenance, it may be time to consider HVAC repair.
If a major component or major components of your air conditioner are failing, that puts stress on the entire system. Under a stressed system, residential air conditioning will not work as well. Your home will be less comfortable, and it may not be pushing air through your HVAC system as effectively. Adequate indoor air ventilation is important for your health. It curbs symptoms of the common cold, keeps seasonal allergies at bay, and may even help stop the spread of coronavirus.
If maintenance and repairs do not do the trick, now is the time to invest in a new HVAC system. Improved health outcomes and lower energy bills will ultimately justify the upfront costs.
Slap On A Fresh Layer of Paint
When weighing potential interior and exterior home upgrades, do not undermine the value of a fresh layer of paint "Repainting walls or doors in your home can yield outsize dividends in home value — and joy," Bob Vila writes.
Follow these tips to avoid common painting gaffes:
Start with a clean slate. Too many homeowners do not realize that one of the first steps to repainting is washing the walls. Wipe down walls with a sponge or cloth, warm water, and a non-abrasive cleaner. If you need to fill in any holes or dents left behind by nails or doorknobs, do it before painting.
Use painters tape. Don't overestimate your abilities. You may think that you can paint the trim or the bits around the doorknob without any mistakes, but it is often far more difficult in practice than you might think. Save yourself the trouble of removing paint or repainting the trim, too. Use painters tape the first time.
Leaving furniture, floors, or carpet uncovered. Once again, overconfidence can take its toll. Don't plow ahead without covering up furniture and laying a tarp or drop cloth down on the floor. Painting takes skill, and even experienced painters might drip paint.
The takeaway here is that painting, whether you are painting indoor rooms or the exterior of your home, takes skill. You will need primer, quality tools, and the know-how to determine when to apply that second coat of paint. When in doubt or if you want to ensure that your paint will look sharp, fresh, and last for years to come, team up with exterior or interior painting services.
Prioritize Eco-Friendly Options
It's 2020, and the reality of climate change is sinking in for many families across the U.S. A greater number of Americans are catching on that they can make simple changes in and around their homes to lower their energy bills and buoy their savings for the next five, 10, or even 20 years. That is where energy audits come in.
A professional energy audit will pinpoint the areas inside and outside of your home that need work — or, namely, the areas that have the potential to save you money if you make smart repairs and upgrades. While these areas vary, the most common places or fixtures that cost U.S. households money are leaky doors and windows, outdated fixtures, and uninsulated walls.
Opt for eco-friendly and money-saving interior and exterior home upgrades. Replace an old wooden doors with a gap between the door and the frame with new, vinyl frame doors. Vinyl frames are energy-efficient and long-lasting. They do not corrode or rust, and they require little to no maintenance. Install energy-saving windows that help keep cool air inside during the summer and heat inside during the winter, and add long overdue insulation to your walls.
Maximize your home's energy efficiency with a few small, last-minute touches: purchase LED light bulbs and swap traditional faucets for efficient, low-flow water fixtures.
Install A New Swimming Pool
So far, the interior and exterior home upgrades discussed have been strictly or mostly business. Now it's time to talk about fun.
For those of us cooped up indoors or around the house more often than ever before (i.e., everyone), it is necessary to take a break from the tumult or tedium for a while and simply sit back and relax. One of the best places to do that is next to the pool.
According to Home Advisor, installing a new, in-ground swimming pool will run you anywhere from $35,000 to $65,000. Above-ground pools are considerably cheaper, costing an average of $1,500 to $15,000. While pools are undoubtedly an investment, they are a popular one. Fox Business reveals that "pools were May 2020's third most searched commodity on Google."
Once installed, homeowners can enjoy pools as-is, or customize pools to their liking. Pool-related exterior home upgrades may include a hot tub or spa, a sunbathing or lounge area, an outdoor kitchen, and more.
Whether you decide to keep things simple or purchase all the bells and whistles, one thing is certain: pools are an investment. Take care of that investment with regular maintenance and swimming pool repair.
Don't Forget About Your Landscaping
Decking out the interior of your home, installing a new pool, and leaving the landscape relatively wild and untended would be a misstep on your part, to put it lightly. When weighing the time and costs of exterior home upgrades, do not forget about sprucing up your landscape.
Landscaping can be a time-consuming task. Do not go it alone. A quality landscaping company will do it all for you. That includes removing any existing weeds and treating your lawn to prevent weeds from growing in the future, planting grass, shrubs, and flowers, mowing the lawn, fertilizing and watering grass, and providing pest control and tree pruning services. More often than not, hiring professionals is worth the cost. Otherwise, according to a survey by House Method, the average person will "spend anywhere from seven to 48 days of their life cutting the grass."
A final word on landscaping: Even the best quality landscaping will look out of place without an appropriate hardscape. Clearly define the boundaries of your lawn and separate your property from your neighbors with residential fences. This is one of the exterior home upgrades that makes a tremendous difference and can take just about any form you like.
Own your fences. Match them with the exterior of your home, or make them an extension of your personality. Dark fences, art deco fences, privacy fences, and fences with lighting are especially trendy right now. Of course, there is always the practical route as well. For durable, long-lasting fencing Bob Vila recommends vinyl or composite fencing. Both require very little maintenance. Keep your fence in tip-top shape by simply rinsing it off periodically — maybe a few times per year.
Embrace Smart Technologies
When it comes to interior and exterior home upgrades, do not shy away from new, cutting edge technology. Smart technology, including virtual assistants, smart locks, smart plugs and electronics, and smart homes, are emerging onto the scene, and experts agree that they're here to stay.
Don't get left behind. There is a host of smart home technologies that can make your life easier — and the list is only getting longer every day.
Start by installing a motion-activated, video doorbell like Ring. Use the app to review video footage and lock the door, even while you are away. Accessories like smart plugs, smart light bulbs, and/or electronic blinds can be a surprising asset to your home as well. Use an app or a central console to control them. With an app, you are able to manipulate lights and blinds while you are at work, on a business trip, or otherwise away from home. Turn on lights at night or close the blinds to create the illusion that someone is home and thereby safeguard your home.
Ask garage door services about installing a smart garage door or a garage door that will work in conjunction with new, smart home system technology. Using this technology, you can open and close the garage when you're nearby, but also when you're away. That comes in handy if you get to work and cannot remember whether or not you closed the garage door.
According to the Environmental Protection Agency (EPA), we spend the bulk of our lives — a shocking 90% — inside. Make the most of the time you spend inside your home or in the area immediately surrounding it. Use the tips and tricks above to complete necessary and cosmetic interior and exterior home upgrades. Whether you want to feel more comfortable or expand your home for school, work, or exercise, these are upgrades and fixes just about any American can do.