Interior and Exterior Ideas to Help Sell Your Home ASAP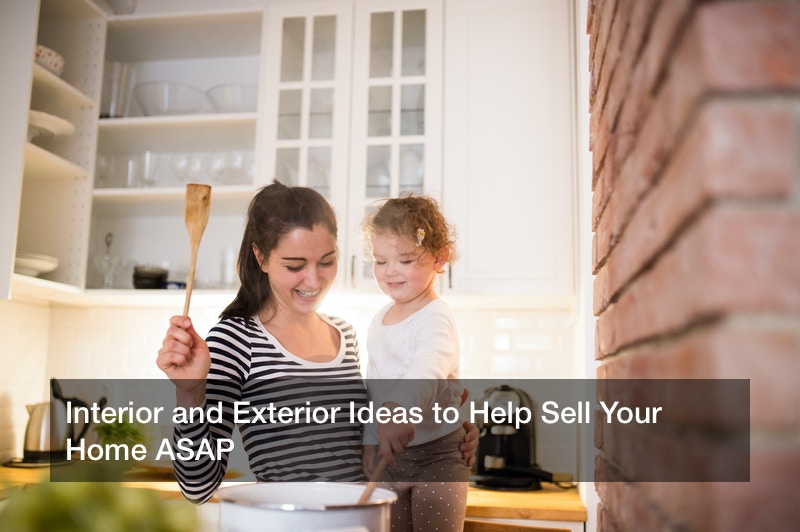 Selling your home is a necessity when you are moving to a new place, whether it's for work or for pleasure. However, this, unfortunately, doesn't always happen so quickly. Sometimes, your house can be on the market for months — even years! If this sounds like a nightmare to you, ensure you're making improvements to your home before you contact a real estate agent.
There is a way you can sell your home fast.
If you need to sell your house quickly, read on to discover all the interior and exterior improvements you can make to your home so you can get an offer nearly instantly!
Improve Your Curb Appeal
When potential buyers are coming up towards your home for sale, the curb is typically the first thing they say. You always hear about how important first impressions are. This statement applies to your home as well. You don't want your buyer to be turned off by a messy and unkempt lawn. Therefore, start your improvements here.
Walk Around the Perimeter of Your Home
Before taking on any projects, try to do a quick walk around your home. This can help you find areas of the yard that are lacking. You can also point out areas that really need some extra love — like a broken fence, a crack in a glass door, a busted light, or dead grass. Start here, and you can also create a reasonable budget plan for improving your curb appeal. This tip can help you if you need to sell your house quickly.
Use Some Paint
Repaint certain areas around the exterior part of your home. This is a small improvement that can make a grand difference, especially if you need to sell your house quickly.
Paint any faded steps, shutters, or fence pickets.
Plant a Tree in the Front of Your Home
You can also plant a small tree in your yard if you need to sell your house quickly. This is an easy way to increase your curb appeal. If the buyers looking at your home are family-orientated, they'll be more likely to buy! They'll likely envision building a treehouse, or hanging a swing from the branches one day.
Planting a tree can also make your house look more put-together!
Add Flower Boxes to the Front of the Home
If you need to sell your house quickly, then consider putting some flower boxes along the windows of your home.
It's a quick way to spruce up the home and make it seem more inviting. Use flowers that can offer strong and bright pops of color. Ensure you also purchase potting soil and flowers that are in season for the best results.
Power Wash the Sidewalk
Here is a low-cost way to improve your curb appeal when you need to sell your house quickly.
You can powerwash the side of your house and the sidewalk.
Dirt and grime can accumulate throughout the years. It looks awful! But luckily, it's also quite easy to get rid of. You can use your hose on the highest setting to banish all the dirt. You can also rent machinery from a contracting business if you need something more heavy-duty.
Add Outdoor Lighting
Outdoor lighting installation will also spruce up your home if you need to sell your house quickly.
Buyers will feel a sense of relief when they see that you have taken this extra step before putting your house on the market because they won't have to go through the trouble of installing it themselves.
Additionally, adding lighting will make navigating the yard much easier at night.
Add More Grass to the Dying Areas
The truth is that it's hard to keep your grass looking perfect year-round. Even if you are watering it often, sometimes brown splotches of dying grass are unavoidable.
Improve your yard instantly by planting new grass in these areas.
Update the Garage Door
A garage door can show wear and tear after 15 years. If you have been living in your residence for more than this, update your door. This is a great idea if you need to sell your house quickly too. While it's an investment, it will pay off since the garage door is one of the first things buyers will see when approaching your home.
Fix Patches in the Driveway
You don't have to be too handy to take on this project. To fix smaller cracks and holes, all you will need is a sealant to patch things up!
Change up the Mailbox
You can also change up your mailbox if you want to enhance your curb appeal and draw more potential buyers in. This project shouldn't cost you more than 300 dollars either. It's also something you can accomplish in a weekend.
Change up Your Front Entry
Make the front entry more inviting if you need to sell your house quickly. Add a few potted plants, repaint the door, or hang a wreath at the front of the door.
You can also add a welcome mat to the porch to tie the entire area together perfectly!
Add an Outdoor Fireplace
An outdoor fireplace can transform your backyard. This area can serve as the perfect place for parties and outdoor nights with the family. Your buyers will also take notice, as this small touch can help your home stand out above the rest.
The Interior
Selling a home quickly also involves paying attention to renovations that can be made to the inside of the home!
Start with the basics. Can your walls use a fresh coat of paint? Is the space so cluttered that guests can't even walk through to preview the house? If so, start with a deep clean of the entire home. Make sure it's spotless before putting it on the market.
Add New Floors
If you want to go the extra mile, try adding new flooring. Floors can show their age with time. This is true with carpet and wooden floors. You might have stained carpet or scratched up wooden floors. Therefore, take this extra step if you want to sell your home as soon as you put it up on the market. Buyers are less inclined to feel excited about a home if they're only picturing all the renovations that have to make upon purchasing it!
Style the Home
Keeping your home clean for open houses is smart. However, if you need to sell your home quickly, you'll need to do much more than this. Style the home with new pieces so that potential families can envision themselves moving in. Invest in wooden dining room chairs or perhaps some new curtains to make the rooms appear more modern and well-designed. You can always take these things with you when you move!
Update the Bathroom
Upgrading certain aspects of your bathroom can also increase your resale value. This can also help you find a potential buyer much faster if you're trying to sell your house quickly.
You can start by repainting your bathtub or replacing any outdated tile. Your buyers will notice right off the bat. You can also do some minor painting, or upgrade the vanity. Add a glass shower if you need to sell your home quickly and urgently. This is a modern upgrade that is sure to be a hit with potential buyers.
Update the Attic Insulation
This upgrade will also help you save some cash! Improving the insulation in your attic means that your heating and cooling bill will dramatically drop. This factor can also be a turning point for potential clients.
Modernize the Kitchen
The kitchen is usually a major selling point when you're selling a home. Therefore, if you want to make some renovations, pour most of your budget into the kitchen. You'll find that this is the most effective way to improve the home's selling rate when on the market.
Buyers don't necessarily always want a huge kitchen. Often they want something that is well organized, clean, and modern. They also want something with reliable fixtures and appliances.
Start by replacing some of the major ones — like the fridge or perhaps the stove.
Then, consider making more cosmetic enhancements. Update the backsplash, or add more storage!
Add More Storage to the Home
You can also add more storage to the rest of the home if you want to sell it as fast as possible. Ample storage is attractive to future buyers. This is a small touch, but it will go a long way when you are trying to sell your home!
Fix the WIndows
Fix the windows to ensure a quick sale. This step will also help keep the heating and cooling confined within the home. Your buyer will save money on their heating and cooling bill every month. This step also ensures that your home looks polished!
Cracked windows are a telltale sign of negligence, so patch that up as soon as you can!
Clean Your Cabinets
You'd be surprised at how snoopy potential buyers can be. They might feel tempted to look through the cabinet and drawers. If these are dusty and organized, it can potentially turn them off from the home! While this isn't necessarily a home improvement tip, it can help you sell your home fast. When you're doing the master cleanse of your home before putting it on the market, don't forget to dust these small spaces, like the cabinets and drawers.
Improve the Lighting Within the Home
Not every house is equipped with gorgeous natural lighting. Floor to ceiling windows can be hard to come by. Therefore, supplement a lack of natural lighting by improving your lighting system. Add more lights to ensure the home never feels dark, drab, and dingy.
Don't Overupgrade
Find a sweet spot with your renovations. You want to make a big enough difference that buyers will notice. However, in the same breath, you don't want to overspend either. This is a huge mistake that many people can make when first selling a home. They pour too much time, energy, and money into the renovation process.
Plan these projects ahead of time and actually stick to your budget. Once you have your list drawn out, do not go back in and add more tasks. Stick to whatever needs your immediate attention. This exercise should keep you on task and on budget, so you can make a profit and sell your home in record time.
Conclusion
Selling a house is no easy task. If you need to sell your house quickly, you'll be happy to learn that it is possible by following these key steps.
Prepping your house will take a lot of work. There are always vast improvements that can be made to the exterior and interior areas of the home. However, this hard work will pay off. You will be getting phone calls from potential buyers left and right!
Once you sell your home, you can relax and focus on making your new spot just as desirable and cozy as your last.